The Bud Matthews story begins with a commitment to family.
We don't just improve your home, we offer peace of mind.
If you're completing a project for a family member, you want to make sure it's a job well done. Why? Because your family member's peace of mind matters to you. When he started the business 40 years ago, Bud Matthews approached every customer like they were family, which meant he was committed to an excellent outcome, no matter how big or small the job.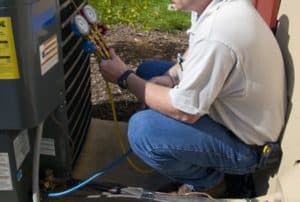 Since 1981, Bud has offered his customers the ease of working with a single, reliable handyman who could handle your HVAC, your plumbing system, your appliance repairs, and now, your construction needs. Bud was that man, and today, Bud Matthews Services is that company: a team of expert repair and craftsmen who are respected and trusted in the Chapel Hill community.
Today, the Bud Matthews Services team is led by Bud's son Micah. Like Bud, Micah understands the value of having one company that can handle all of your home improvement needs. After all, the different systems of your home are interconnected: your appliances are connected to your plumbing system, your gas line provides fuel for your hot water heater, and a kitchen remodel requires knowledge of architectural design, electrical work, appliance installation, and more. Under Micah's guidance, the Bud Matthews Services team can take on any project your home requires and then handle any issues that come up in the process.
Like all family-owned businesses, Bud Matthews Services has grown over time. While our commitment to high-quality, comprehensive home repair remains the same, Micah's influence has helped to develop our passion for designing and building. Micah is passionate about transforming people's spaces, and as a result, the Bud Matthews team can now be present in every step of your design/build process, from the initial design consultation all the way to the finishing touches on your beautiful new kitchen, bathroom, or outdoor living area. The Chapel Hill community has grown to trust our crew of accomplished professionals – from our designers to our construction team to our appliance and HVAC experts. So, whether you're finishing a basement, remodeling a kitchen, redesigning your home for aging in place, upgrading your appliances, or solving a tricky plumbing issue, Bud Matthews Services can help you build a better home.
It means a lot to us that you've read this far. Our story matters to us, and we're glad you took the time to get to know it. Now, let's get down to the really important stuff – how we can make your home work for you.
Here's a comprehensive overview of our services:
The Bud Matthews Services family is committed to making your family feel more fully at home.
Our work is fully guaranteed and under warranty. We ensure your satisfaction.