Commercial Air Conditioning Services in Chapel Hill & Durham, NC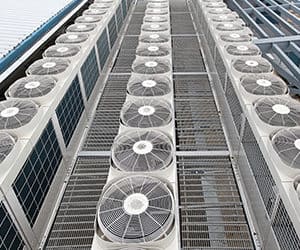 We're proud of the quality service that we provide to homeowners in the Chapel Hill, NC area to help them keep their homes adequately air-conditioned during hot weather. However, we also offer a complete range of AC services for commercial buildings as well.
It doesn't matter the type or size of the job you need to be done: Bud Matthews Services has commercial HVAC professionals who can take care of it. If you need new rooftop package units installed, quick repairs for a malfunctioning AC that's making your workplace uncomfortably warm, or just an annual maintenance tune-up, all you have to do is contact us to schedule the work!
WE OFFER INSTALLATION AND REPLACEMENT FOR COMMERCIAL AIR CONDITIONERS
Every business is different, and each one has specific cooling needs. This is why it is so vital that you only reach out to experienced commercial HVAC experts when it is time to install an air conditioner or replace an aging unit. We understand how to put together an air conditioning system that can match your business' needs and doesn't put excessive strain on your resources.
The most common type of commercial air conditioner is the rooftop package unit. Unlike standard split systems (the kind used in most homes) that have indoor and outdoor cabinets, rooftop package units have both the condenser and evaporator housed in the same cabinet, along with the other components. The rooftop location allows for better use of space and easy access for technicians
ONLY TURN TO PROFESSIONALS FOR COMMERCIAL HVAC REPAIRS AND MAINTENANCE
You should never tinker around with the air conditioning system for your business if something goes haywire. Too much at your company rides on getting the cooling system working at full capacity again, so when you call for help, only call on commercial HVAC professionals who can ensure that the jobs get done right and gets done as fast as possible.
We offer a routine maintenance program to protect your company's comfort in the future. Each spring our commercial technicians will provide a thorough inspection and tune-up your air conditioners. This will prolong its service life, prevent a rise in bills due to inefficient performance, and can prevent most malfunctions. Talk to our commercial HVAC team to learn more about our maintenance agreement.
LET BUD MATTHEWS SERVICES SEE TO ALL YOUR COMMERCIAL COOLING NEEDS!
We care about the Chapel Hill, NC community and always have since we started in the business. We extend that caring to the companies in the area with our commercial HVAC services. You don't have to worry about troubles threatening the cooling of your building, or where you should go when it's time to put in a new AC: just contact Bud Matthews Services and rest easy knowing you have some of the best people in the industry on your side.