Heat Pump Repair Services in Chapel Hill & Durham, NC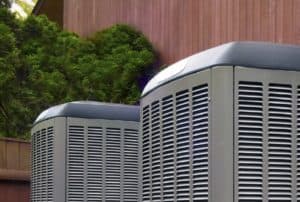 The standard way homes receive heating and cooling during the year is with a combination of a central air conditioner and a furnace in a cabinet that uses a single blower fan. But there is a way that homes can enjoy heating and cooling using only a single system. It's called a heat pump, and it offers a number of advantages beyond providing the convenience of year-round comfort.
Bud Matthews Services has worked with heat pumps for many years, so no matter if you are considering having a heat pump installed for the first time in your home or you are looking for repairs for an older heat pump, you can turn to us to get the job done. We install and work on the best quality brands, and we are here 24/7 when you need emergency assistance. Make us your source for comfort in Durham, NC.
The HVAC professionals at Bud Matthews Services provide comprehensive services for heat pumps in Durham, NC, and the surrounding areas. Give our friendly team a call at 919-929-0203 or contact us online for any of your repair, replacement, or heat pump maintenance needs! 
How Heat Pumps Efficiently Heat & Cool Your Home
A heat pump works much like an air conditioner: a compressor places refrigerant at high pressure, which then moves between a set of indoor and outdoor coils. Through condensation, the refrigerant absorbs heat in one location and then releases it in another through evaporation.
What makes the heat pump different from the air conditioner is that it can switch the direction the refrigerant moves thanks to a component called a reversing valve. This allows the heat pump to change from working as an air conditioner (removing heat from indoors) to working as a heater (moving heat to the indoors). It only takes an adjustment on the thermostat to change the heat pump from one mode to the other. Not only are heat pumps safer due to the no-combustion process they employ (heat pumps are electric), they are also extremely energy-efficient, saving homeowners upwards of 60% on their monthly energy bill.
Why You Should Consider a Heat Pump Installation
The biggest advantage of installing a heat pump is that it takes care of two comfort needs with one unit. There are other advantages to consider as well:
Energy–efficient heating
In cooling mode, a heat pump works at the same level of energy efficiency as a standard AC of the same size. But in heating mode, a heat pump has superior energy efficiency compared to most other heating systems. This is because heat pumps do not burn fuel to create heat, they instead use electrical power to move heat. A heat pump that's well-matched to a home's heating needs can mean hundreds of dollars in savings each winter.
Safety
Heat pumps are among the safest ways to provide a household with heating. They do not use heating oil or natural gas that might create toxic exhaust. In fact, their cabinets do not even warm up when in heating mode.
Heat Pumps Vs. Furnaces for Your Home
The main difference between heat pumps and furnaces is that heat pumps transfer heat from existing air, while furnaces have to generate heat before distributing it throughout a home.
In this way, heat pumps are much more energy-efficient, simply because moving existing heat from place to place takes much less energy than creating it. On average, a heat pump can transfer 300% more energy than it consumes, making heat pumps a very cost-effective option for homeowners.
Interested in learning more about how heat pumps could save you money and increase your home's overall efficiency? Give our friendly HVAC experts a call today at 919-929-0203!
Professional Heat Pump Repair & Installation Services
Heat pumps are a great, cost-effective alternative to installing a central AC system within your home. More and more homeowners are searching for ways to be more energy-efficient while efficiently heating and cooling their home. Here at Bud Matthews Services, we specialize in all aspects of heat pump service. Our expertise includes:
Heat Pump Repair
With years of experience servicing heat pumps for homeowners throughout the Chapel Hill and Durham area, we have the skills necessary to diagnose and repair any heat pump problem you may be experiencing. From refrigerant leaks to broken reversal valves to electrical failure, we can service your home's heat pump and get it back in working order quickly.
Heat Pump Installation and Replacement
Whether you're installing a heat pump for the first time or need to replace your existing system, we have the top-rated technicians to get the job done quickly and affordably. The proper installation of your home's heat pump plays a critical role in its effectiveness and its overall service life. Our skilled installation team will perform the flawless installation to guarantee optimal performance from your heat pump.
Heat Pump Maintenance
Routine, preventative maintenance is the single most important investment you can make for any of your home comfort systems, including your heat pump. Our technicians will perform comprehensive maintenance to alert you to any small issues that could result in a larger, more expensive problem down the line. Heat pump maintenance will ensure that your system is operating effectively and efficiently all year round.
To learn more about our unmatched heat pump services throughout Chapel Hill and the Durham, NC area, contact our team of industry experts at 919-929-0203 or schedule your services online today! We're standing by to provide you with fast, effective, and affordable services, right when you need them! 
Frequently Asked Questions About Heat Pump Services
When it comes to heat pump installation and service, we feel like we've seen and heard it all. This is why we've compiled some of the most common questions we receive from homeowners just like you concerning heat pumps.
At what temperature is a heat pump not effective?
The optimal temperature range for a heat pump to source heat energy is 30 degrees Fahrenheit and higher. When outdoor temperatures drop below 30 degrees, your heat pump is still capable of providing warm air but will begin to work harder and less efficiently.
What are the advantages and disadvantages of heat pumps?
Some of the distinct advantages to utilizing a heat pump within your home include:
One of the most energy-efficient ways to heat and cool your home
No need for duct installation (meaning cleaner air since there's no dust or debris buildup)
Heat pumps operate quietly
Safer than gas or other combustion-based heating systems
Minimal space required for installation
Savings on monthly utility bill
Here are some of the disadvantages to heat pump installation that should be considered:
Initial installation costs can be high
Extreme weather conditions can reduce efficiency
Electric heat pumps require regular maintenance
When deciding between a heat pump vs. another home heating and cooling system, it's important to consider all factors.
How long should a heat pump last?
When properly maintained, your heat pump should have a service life of approximately 15 years. Some newer models of heat pumps are designed to last even longer.
Should I cover my heat pump in the winter?
No! You should never cover your heat pump in the winter, as it needs access to the outdoor air in order to pull it through the side vents and exhaust through the top. If you cover your heat pump, it won't be able to operate effectively and may cause long-term damage to your system.
Don't see your question here? If you have a question about whether a heat pump is the right choice for your home, contact our friendly and knowledgeable team today at 919-929-0203! We're standing by to answer your questions and provide you with the quality services you deserve!