Microwave Services in Chapel Hill, NC by Bud Matthews Services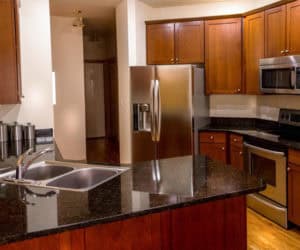 Microwave ovens are inexpensive and easily replaced, which leads a lot of people to toss theirs out when it malfunctions. Sometimes, however, those microwaves are installed as part of a more extensive oven system, and simply removing them is more complicated than it seems. Also paying full price for a replacement is just wasting money when you can have your existing microwave repaired.
Microwaves are safe appliances, but they still need professional attention to repair correctly. Here in Chapel Hill, that means the experts at Bud Matthews Services, who have the skills and experience you need to perform all manner of microwave services.
If yours is malfunctioning and you don't want it replaced – we're standing by to help. Give us a call today and let us fix the problem the right way!
HOW TO TELL WHEN THERE IS A PROBLEM WITH YOUR MICROWAVE.
Ideally, a microwave oven will present harmless signs that something is wrong, such as a failure to turn on, or leaving food insufficiently heated. Others can be more serious, such as smoke coming out of the motor or arcs of electricity. In those cases, don't attempt to unplug the microwave. Instead, shut off the circuit breaker supplying power to the microwave and call in a repair service. Doing otherwise risks injury, and microwaves can be dangerous if electricity is running through a faulty one.
WHETHER REPAIRING OR REPLACING, YOU'LL KNOW THE SCORE
The benefits of a microwave repair service come with knowing the best options before you act. If the system can be repaired for less than it costs to replace, then your service will be worth it. If a replacement is needed, then at least you'll know that, and in the case of microwaves installed above a stovetop or in similarly permanent positions, you'll have a service that can do it thoroughly and professionally. Don't get left without a knowledgeable ally to help you make a decision.
BUD MATTHEWS SERVICES IS READY TO HELP WITH MICROWAVE SERVICES
As a customer, you need to know which service is going to do right by you, and which one is just looking to line its pockets. At Bud Matthews Services, we treat our customers like neighbors, and we're always looking out for your best interests. You can save a lot of money by repairing your microwave instead of just throwing it out, and nothing makes us happier than helping our customers solve repair issues without breaking the bank.
If your microwave is having troubles, or your permanent microwave needs to be removed safely and efficiently before installing a new one, then Bud Matthews Services is here to do it all safely and effectively.
Give us a call today to set up an appointment and let our team take care of the rest!