Oven Services in Chapel Hill, NC by Bud Matthews Services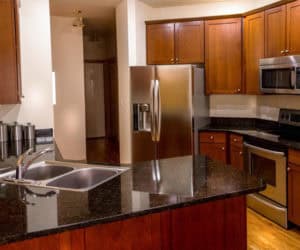 Few appliances in your home are as essential as your oven, where you prepare your food and serve up hot dinners for your family to enjoy. When your oven runs into troubles, it can put a significant damper on the rhythm of your life: we can only live on takeout food for so long. Even worse, a faulty oven may constitute a health risk through gas leaks.
When that happens, it's imperative that you call upon the experts at Bud Matthews Services to lend a hand. We've serviced ovens throughout the area, and we know how to spot the problem quickly before making safe and efficient repairs. If your oven is giving you trouble, shut off the gas and call in one of our trained technicians today!
OVEN INSTALLATION IS A BIG JOB
Installing a new oven may sound simple – just detach the gas line and pull it out – but it's not something most laymen have done before, and even skilled do–it–yourselfer run significant risks when it comes to gas leaks and the like. That's why it's always preferable to trust a professional service to install a new oven: one that knows the make and model you want to be put in and can handle all the technical details with skill and professionalism. Selecting the right service can make all the difference in the world and ensure that your new oven works precisely the way it's supposed to.
LET THE PROS HANDLE OVEN PROBLEMS
Detecting an oven problem is usually relatively simple: noticing that your food isn't being cooked, for example, or noticing that the thermostat doesn't accurately gauge the temperature. But the sign that should concern you the most is the smell of gas, which means that there's a leak in the lines somewhere. When that happens – or even if the problem doesn't seem directly connected to the gas – shut off the gas immediately. The issue is one of safety. You should always seek out professional help when it comes to gas leaks.
NEVER ATTEMPT TO FIX AN OVEN PROBLEM YOURSELF
Gas isn't the only issue preventing laymen from attempting to repair an oven, though it's the most important one as far as your household's safety goes. Beyond that, trying to fix a problem yourself may cause more damage, and could require expensive equipment that you don't have access to.
The same goes for removing an outdated oven and installing a new one.
BUD MATTHEWS SERVICES IS READY TO PROVIDE OVEN SERVICES TO YOU
Bud Matthews Services is the name you can trust to handle all varieties of oven repair and replacement problems. We know how to remove an old oven and install a new one safely, leaving no trace behind. We can service your oven when you need it and check for potential problems in the gas line or body of the oven. If you're having problems with an existing oven or you're ready to replace it with a new one, then there's only one name to call.