Refrigerator Services in Chapel Hill, NC by Bud Matthews Services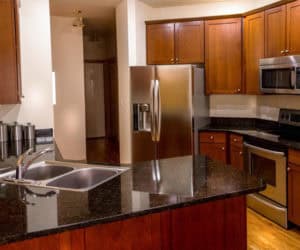 It wasn't too long ago that homes operated with an ice box. Today's refrigerators are a far cry from these food holders, supplying you with everything from the sub-zero freezing capability to fresh, filtered water. The mechanics and technology of your fridge are complicated, and it takes experience, training, and expert knowledge to be able to manage these appliances.
The good news is that the appliance technicians at Bud Matthews Services can help you with all of your refrigerator needs, from new installation and replacement to repair. You want to know that your food will be fresh and safe to eat, and we can make sure that your refrigerator does precisely what it is supposed to do.
NEED A NEW REFRIGERATOR? MAKE SURE YOURS HAS THESE 3 IMPORTANT FACTORS
When looking for a new fridge, whether it's a brand-new installation or replacing an old refrigerator, it's essential to look for one that has these three important factors:
Good ratings for even temperatures – inconsistent temperatures can spoil your food, costing you money each time you have to replace food that has gone bad. The ideal temperature internally is 37 degrees. Look for a model that is known for keeping this consistent temperature.
Uses energy efficiently – it's always important to check the energy efficiency of any appliance you purchase for your home, especially one that operates around the clock like your fridge does. The average cost for a stable energy efficient model should cost no more than $80 per year to run. Any more than that and you may have an energy hog on your hands.
Noisy operation – yours shouldn't be so loud that you can hear it while working in your kitchen. Check the reviews on the model of your choice to make sure it isn't making its presence known all the time through noisy operation.
COMMON REFRIGERATOR REPAIR ISSUES
If you are experiencing problems with your refrigerator, it's always best to allow a trained expert to handle the issue. Otherwise, tangling with yours without having the right expertise can mean creating a much bigger issue and potentially rendering it totally inoperable. Here are some of the more common problems our experts see when it comes to refrigerator repair:
Problems with the motherboard – if you have a totally electronic version, such as a GE, all of your refrigerator's operations are controlled by a single motherboard. It's best to let a trained expert handle any issues on the motherboard.
Problems with proper cooling – there can be several reasons why your fridge isn't cooling correctly, ranging from issues with the compressor to problems with the thermostat. Rest assured that our pros will find and fix the problem.
Problems with ice maker – it's great to have easy access to ice, but if the dispenser is malfunctioning, you may not get the ice you need. Ice makers can experience problems for a few reasons, so it's best to let our specialists determine the cause.
Your refrigerator is a key appliance in your home. Don't leave it in just anyone's hands when it comes to installation and service. Instead, call the experts you can count on for all your needs: Bud Matthews Services.