Stove Services in Chapel Hill, NC by Bud Matthews Services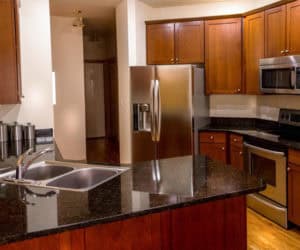 Unless you are a fan of cooking your dinner every night over an open fire, your home needs a stove. Today's kitchen trends have given homeowners a plethora of choices when it comes to installing a new kitchen stove, and like refrigerators, today's stoves are very capable but can also be very complicated. This is why it's critical to hire trained experts for all of your kitchen stove needs. The pros at Bud Matthews Services have been helping customers in Chapel Hill with their kitchen appliances for over 30 years. Having a safe, efficient stove is very important, and we can help make sure yours functions as needed.
Let us make sure that your kitchen stove is installed correctly the first time around, or make sure your existing one gets the repair it needs. 
INSTALLING THE RIGHT–SIZED KITCHEN STOVE
Before moving ahead with any kitchen stove installation, you need to know what size stove you need and/or want in your kitchen. While many of today's kitchen designs boast stoves that could work for any top chef, your kitchen may not be set up for such a stove.
There are three categories of standard kitchen stove sizes: small or apartment size, which runs from 20–24 inches in width; standard, which is made for the average residential kitchen and ranges in size from 30–32 inches in width, and commercial grade, which can be as wide as 48 inches. If you plan to install and use a stove in this last category, you need to make sure your kitchen has the room to accommodate a stove of this size.
REPAIR VS. REPLACE: WHICH SHOULD I DO?
At some point, many homeowners will come to the repair vs. replace dilemma with at least one of their appliances. If you have reached a point where you are questioning whether it is better to repair or replace your kitchen stove take these essential factors into consideration:
Age – age is always one of the most significant factors to consider when repairing or replacing an appliance. Most appliances have an average lifespan of 15–18 years. If your stove is older than this, it is likely not worth the cost of repair.
Price of the repair – if the repair to your stove costs more than half of what it would cost to replace the stove, it is suggested you go with a replacement.
Warranty – is yours still under warranty? If so, the repair may be partially or fully covered, in which case it would make sense to move forward with the repair.
If you are struggling with the repair vs. replace dilemma regarding your kitchen stove, call the experts at Bud Matthews Services today!