Your Home and Storm Drainage: What You Need to Know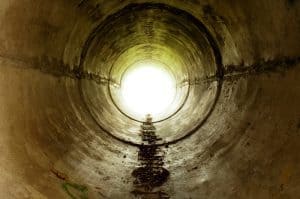 The term storm drainage sounds dramatic, but it's a basic part of the drainage system of your house. However, storm drainage can definitely prevent dramatic situations such as flooding, so it's important to know a bit about what it is and how to take care of it.
A clogged storm drainage system can lead to serious problems and possibly damage to your yard or even your house. Water damage is incredibly expensive to remediate, and a well-cared for drainage system can prevent it from happening to your house. Considering the average annual rainfall in Durham is 48 inches, you'll want to ensure your home's storm drainage system always does its job.
Storm Drainage Basics
Storm drainage is the parts of the plumbing system on your property that remove excess water that can accumulate on flat surfaces, either from rain or the irrigation system (sprinklers, for example). The part of your home's storm drainage system you're probably most familiar with is the rain gutters. Rain from the roof runs down onto the ground and accumulates. The gutters and downspouts instead direct this water into the main drain of the storm drainage system. Other drains on your property remove the water to this larger drain that runs underground until it connect to the municipal drainage system on the street.
The Blocked and Broken Storm Drain
A storm drain can become clogged up with leaves, dirt, rocks, and other debris. This is often a problem during the fall, but it can happen any time of the year—especially after a heavy rainfall sweeps soil, gravel, and grass down the drains. Just like the drains inside your house, your storm drains need to have routine cleaning to get rid of the build-up of debris that eventually leads to clogs. You can take care of the more obvious cleaning jobs, like clearing away clumps of leaves, on your own: check around the outside drains after a rainfall. However, we recommend you have professional plumbers do regular inspections to see where you'll need deeper cleaning to head off potential problems.
You'll also need a professional plumber to take care of broken sewer line pipes. If water isn't draining properly and you don't see leaves, mud, or other debris that could be causing the trouble, there's probably a broken pipe somewhere. Call a plumber before you get caught in the next storm.
Storm Drainage Professionals
If your property is experiencing storm draining problems, the trouble may be that the original drainage system was poorly installed so it can't handle the amount of water trying to move through it. Storm drain installation isn't something an amateur can do. If you suspect that you've got a storm drainage system that needs to be upgraded, call plumbers who can take care of putting in the new drains.
Not all plumbing contractors work with storm drainage system. For a plumber in Durham, NC who will take care of fixing storm drain problems and improving your current storm drainage, we're the people to call.
Solve your home drainage problems by calling Bud Matthews Services—The Service Contractor of Choice in Durham, NC and the surrounding areas.