Tools Professionals Use to Clean Drains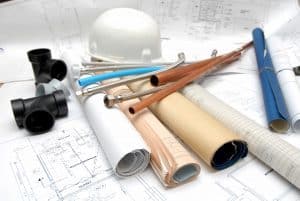 A clogged drain is an unfortunate, but common, hassle for residential plumbing. You'll probably need to have drain cleaning done in your house at some point, although we strongly recommend arranging for it every year as a preventive measure. It's better to have clean drains that won't require emergency plumbing calls!
Whether you're looking for drain cleaning as a regular maintenance task or as a fix for a clogged up sink, shower, or other plumbing fixture, only rely on professional plumbers who have the best tools available to do the job.
Below are the top tools our licensed plumbers use when they do drain cleaning in Durham, NC and the surrounding areas.
Hydro-Jetting Equipment
This is the most popular tool for plumbers when it comes to comprehensive drain cleaning. Hydro-jetters are devices that place a supply of water under high pressure, and then blast the water through a hose and nozzle inserted into the pipes. The force of the water scours the inside of drainpipes and knocks away even the hardest of deposits, including hard water minerals. In the hands of professionals, hydro-jetting is safe and effective, providing thorough cleaning that makes it difficult for build-up to start again.
Motorized Drain Augers (Drain Snakes)
The drain auger is a basic tool you can purchase as a hand-crank model. But for tougher clogs and drain cleaning jobs, it takes a motorized auger to do the work. A motorized drain auger drills down into clogs with a corkscrew movement. Once the ends of the auger are lodged in the drain obstruction, the plumber can break it apart or draw it back out. Drain augers can smash through most clogs—provided experienced professionals use them.
Video Pipe Inspection Equipment
This isn't a tool that actually cleans drains, but it's a terrific help in speeding up the process and ensuring it's done right. Using a miniaturized camera mounted on a long fiber optic cable, plumbers can get a close look at the condition of the inside of a drainpipe. This tells them important information so they can tackle the clog with the correct tools for the job. Afterwards, they can check up on their work.
NOT Chemical Drain Cleaners
This is the opposite of a tool professional plumbers use for drain cleaning. We list it here because we want to emphasize how critical it is to rely on licensed plumbers to clean your home's drains rather than resorting to bottled "liquid drain cleaners" purchased from a store. No professional plumber uses chemical cleaners, and for a couple of good reasons:
They aren't effective, eating through a portion of a clog but leaving plenty of it behind.
They often damage drainpipes because of the corrosive action of their acid ingredients.
They are highly toxic, leaving behind harmful fumes and later polluting landfills.
Although it's fine to attempt to clear out a clog on your own with a basic plunger or hand-crank drain auger, if these don't work, the next step isn't to reach for the bottle of chemicals. It's to contact our plumbers and arrange for the drain cleaning that will get the job done right.
Bud Matthews Services is here for all your home service needs in Durham, NC and the surrounding areas.