5 Simple Reasons Why Your Dryer Isn't Heating, And How To Fix Them!
Posted on:
August 24, 2018
Updated May 2022
It's the night before your big interview and your child's state championship soccer match. Despite how many times you run your dryer, the clothes come out slightly warm and extremely damp. What now? Should you call a professional? Should you go to a self-serve laundromat? Or can you fix it yourself in about 10 minutes and save some money?
Often, the problem is a quick and simple fix that you can do with little to no technical experience. It's important to correct the small issues so they don't add up to big costs down the line.
Dryers have quickly moved from a luxury to an everyday necessity. Here are 6 reasons why your dryer isn't heating and the solutions you can implement at home to get it back up and running.
#1 Check the (Lint) Trap
We have all been in a rush and forgotten to clean out the lint trap. It happens. However, if you are noticing a lack of heat from your dryer this should be the first place you check. A clogged lint trap prevents your dryer from expelling the hot damp air produced by heating your wet clothes. It also restricts airflow into the heater coil, which causes the air entering the dryer to be too hot. This places extra stress onto the dryer's compressor, and in the long run can cost you a good deal of money in repairs, not to mention, it will drive up your energy costs. Clogged lint traps also increase the risk of dryer-based fires. According the U.S. fire administration, there are around 2900 dryer fires are reported each year, causing an estimated 5 deaths, 100 injuries, and $35 million in property loss. 34% are of these dryer fires are attributed to not cleaning out the lint trap. something you never want to be a part of.
To avoid these issues, make it a regular habit of cleaning the lint trap screen before every new load.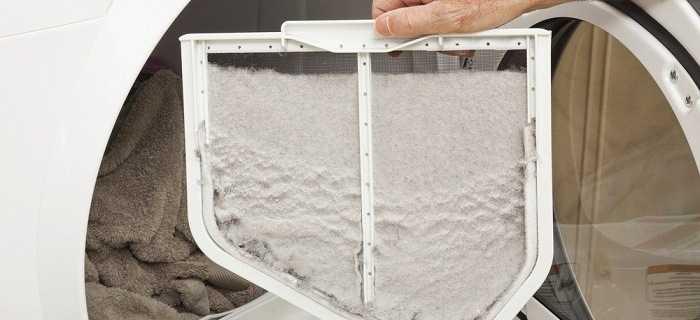 You should also try and clean the lint trap itself once a month or so. The easiest way to do so is to wrap a wash cloth around a paint stick and gently brush the inside of the trap as shown below.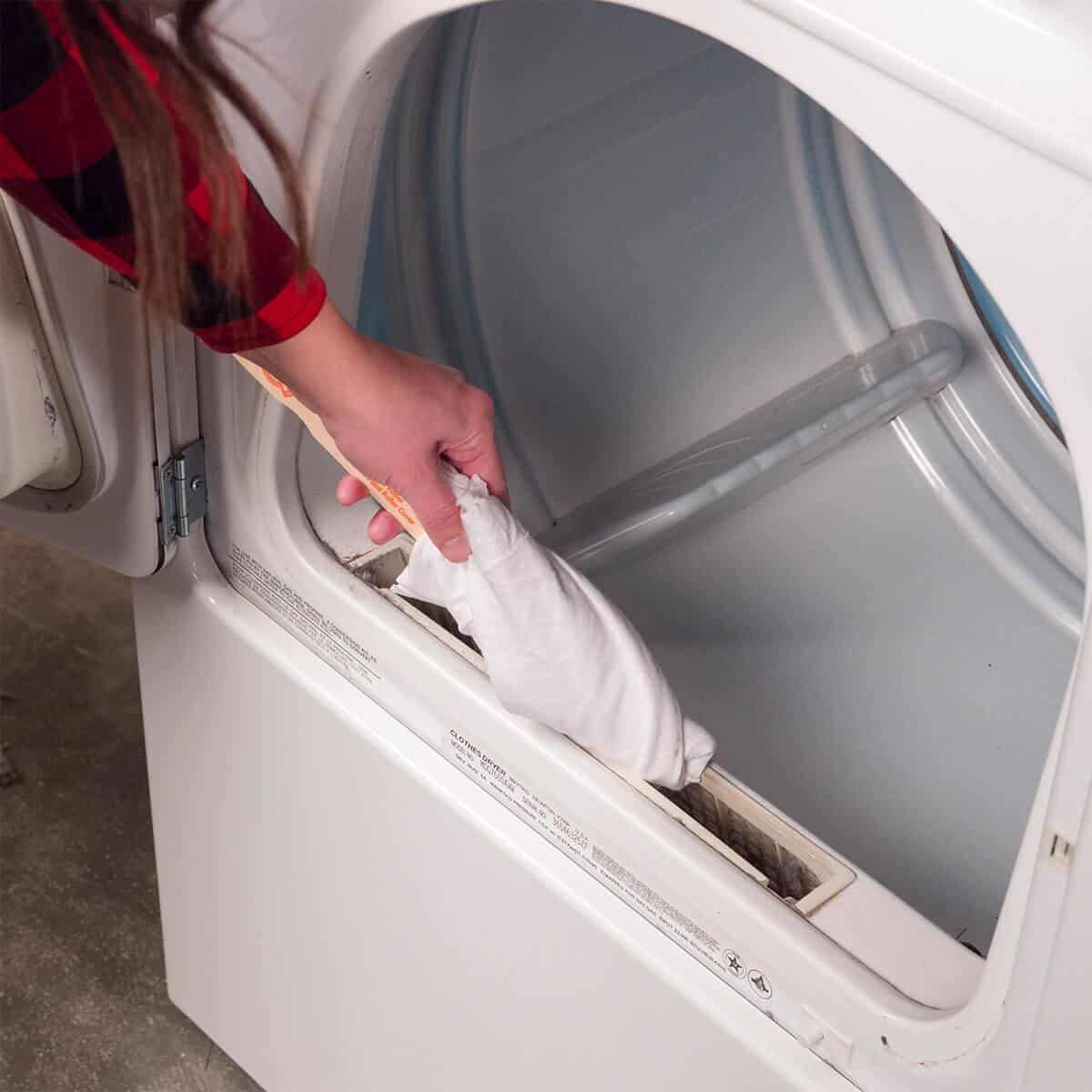 Bonus fact: Lint can be composted or used as a safe, chemical free fire starter.
#2 Check the Dryer Vent Hose.
Dryers are designed to push hot, moist air through the vent hose to allow clothes to dry. Your vent hose can sometimes become clogged from lint buildup leading to reduced air flow out of your dryer. It also puts extra strain on the motor, increasing energy costs and reducing your dryer's lifespan.
Luckily, this is a simple fix and does not require any special tools. The first thing you should do is check the outside vent. This is the easiest access point and often the trouble area as shown below.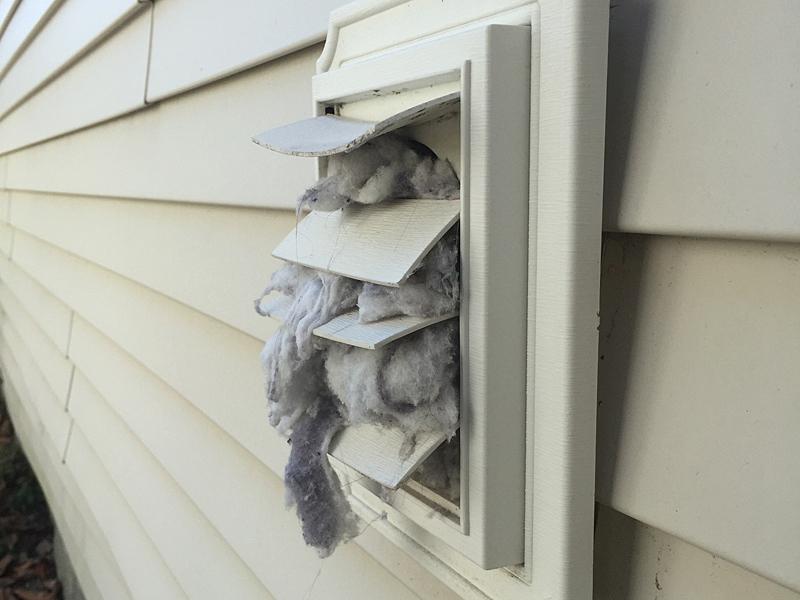 If you see build up, simply remove it with your hand or vacuum cleaner. While you are outside, check to make sure there are no external obstructions to the vent. It's not uncommon for plants, bed decorations, and lawn equipment to make their way in front of dryer vents.
If the outside vent and pipe are clear you can head back inside to check the back of the dryer. Once there, you will most likely need to remove the hose clamp. All you should need is a flat head screwdriver or drill on hand to undo the clamp.
Once you have the clamp removed, simply unclog the pipe by vacuuming or pulling out the lint. When finished, put the hose back on, tighten the clamp down, and get to drying!
#4 Location, Location, Location
One simple reason why your dryer isn't functioning properly may be that it is just too close to the wall to allow proper air flow through the vent pipe. To correct this, just pull the dryer out from the wall until you can clearly see that the vent pipe is not compressed or pinched.
#5 Check the power
If the above steps did not resolve your issues, then the last thing you should do is check your circuit breaker and/or fuse box to make sure nothing has been tripped. If either has been tripped, flip the breaker or replace the fuse as necessary. You should consider unplugging other appliances or only running your dryer in order to prevent further tripped breakers or blow fuses. If the problem continues to trip the breaker or fuse box, you may need to consult a certified electrician to resolve the issue.
NOTE: When dealing with electricity it is important to make sure that you take the necessary precautions:
Only use insulated tools when cutting or touching wires.
Test the outside of the circuit breaker box with a volt meter to make sure it is not conducting electricity before opening.
Be sure to wear rubberized shoes, gloves, and goggles when handling live wires.
If you have a gas dryer, check the gas valve behind the dryer to ensure it is turned on. You should also check that your main gas valve is turned on too. If your gas dryer has an electronic ignition instead of a pilot light, you may have to call an appliance repair person for professional assistance.
Other Options
The cause of your dryer ruining your clothes or failing to heat up isn't always easy to decipher right away, but with a little trial and error, you may be able to find that the solution is relatively simple to fix. If the solutions above did not solve your heating issue, it may be time to call a professional repair service. Acting quickly to address problems will extend the life of your dryer.
Why Choose Bud Matthews Services in Chapel Hill and the surrounding areas?
We believe that you shouldn't have to pay for simple solutions, that's why for over 40 years Bud Matthews Services has shared information from our home improvement professionals to help local homeowners get more value out of their homes and feel confident next time they need professional assistance, such as dryer services. If you need all-encompassing professional home service company, we would be honored to help you out. You can check out what clients have to say about us or contact us today to schedule a service appointment!