Your Copper Pipes Can Corrode: Here's How
Posted on:
February 20, 2017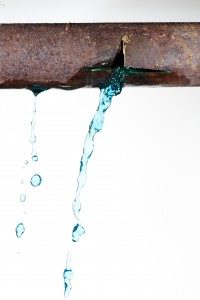 As a professional plumbing contractor, we're used to handling an enormous range of different services for homeowners. Basically, when you need plumbing help, even for plumbing emergencies Durham, NC, you can count on us to get the job done, no matter what it is.
But there are some plumbing jobs we do more frequently than others. One of our basic services is working on plumbing pipes. This makes sense, as all plumbing systems requires pipes of some kind. Older homes may still have steel or iron pipes (we recommend having repiping in these cases) but the modern home plumbing system relies on copper and various types of plastic, such as CPVC and PEX.
There's a belief about copper that it will not suffer from corrosion. It's true that copper is more resistant to corrosion than steel or iron is. But there are a number of specific types of corrosion that will affect copper and lead. If your copper pipes are leaking, you'll need our professional assistance to repair or replace them and prevent issues from re-occurring.
The Story of Copper and Corrosion
Why might copper corrode? It's not at much danger of corrosion when exposed to unpolluted water and air that's free from oxidizing acids. Unfortunately, this isn't always the situation in a home. The presence of oxidizing acids; heavy-metal salts, sulfur, and ammonia; and a number of sulfur and ammonia compounds can cause corrosion to set in. Water that comes from a well is much more likely to contain these materials and put copper lines in jeopardy—but it can occur in the civic water system as well.
The most insidious and common form of copper corrosion is pitting corrosion, and it's something that plumbers encounter often. Contact with chloride, hypochlorite, or bromide ions is what will trigger pitting corrosion. This corrosion occurs in a small area, and is often hard to spot visually. It gradually weakens the surface of copper until tiny leaks start up, the notorious pinhole leaks that professional plumbers often have to fix. These small leaks are problems because they often go unnoticed until they've created construction damage and the growth of mold and mildew in a house. Plumbers can either replace the pipe or cut along corroded section and rejoin the pipe ends with clip that seals the leaking area.
There's also a problem called galvanic corrosion in copper. This occurs is a copper line is connected to a steel or aluminum pipe—something that might occur because of sloppy repair or installation job. The two metals in connection creates a galvanic reaction that will lead to the copper corroding.
Don't Delay with Leak Detection Services to Find and Repair Corroded Copper Pipes
Copper leaks from corrosion are often tricky to spot. You should look for signs of discoloration on the walls of your house, or bumps in the floor boards and underneath the carpet. Increases in your water bills are also a warning: small leaks can add up to a few extra gallons of water per month! If you know that you have copper pipes in your household plumbing, never delay to call for leak detection services from our plumbers. They'll locate the leaking pipes and have the problem repaired in no time.
Bud Matthews Services is here for all your home service needs in Durham, NC and the surrounding areas.