Get Some Help in the Kitchen (Its Plumbing, At Least)
Posted on:
January 23, 2017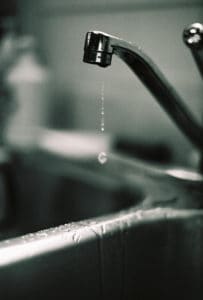 No, we can't promise to help you cook up a great meal. What we can promise you is that we'll take care of any plumbing needs your kitchen may have. When you consider the amount of plumbing pipes and fixtures in this one room of the house, that covers a lot of different services. However, we're a full home service plumbing contractor, offering top quality kitchen plumbing in Durham, NC and the surrounding areas. So we're confident we can take care of your kitchen pipes and fixtures, no matter what problems crop up.
Let's take a look at some of the more common kitchen issues our licensed plumbers handle.
Dripping faucets
A faucet that drips is more than an annoyance. It creates a surprisingly large amount of water waste. A leaky faucet dripping at the rate of one drip per second can waste 3,000 gallons each year, which is equal to approximately 180 showers. These drips can be tricky to stop as well; just taking a wrench to the faucet won't always finish the job. Professional plumbers can help with the repairs or the full faucet replacements that will remedy your kitchen drip.
Clogging drains
The drains in a kitchen face major problems because of the amount of food waste that goes down them. Organic build-up along the interior of drainpipes can lead to clogging trouble, as well as unpleasant smells and sewer flies. It isn't a good idea to pour chemical drain cleaners into the drainpipes to fix this problem. These acidic mixtures can end up harming the pipes! And they're highly toxic as well. What you can do instead is call our plumbers for professional drain cleaning for your kitchen. We use the finest rooters and hydro-jetters to tackle the job.
Low water pressure
You turn on the faucet in the kitchen sink, but the water comes out at a weak trickle. This might due to a temporary problem in the municipal water supply. But if it continues, you should contact a plumber to look into it. One possible source of the problem is a break in the water main, which is a serious issue. A plumber will pinpoint whether you have a water line issue or a simpler problem, and then take the steps necessary to fix it.
Broken garbage disposal
You can never grasp how much you rely on your kitchen sink garbage disposal… until it breaks down on you. It's important that you don't attempt to repair a disposal on your own (aside from checking the reset button on the bottom of the unit). Let our experienced plumbing appliance experts look into the trouble. If the disposal repairs are too expensive, it's better to have a newer unit put in.
Repiping
You might need to have parts of your kitchen repiped. Repiping can be done to replace worn down pipes made from outdated materials, or it can be done as part of a kitchen remodeling project. So whether you have leaks or you're planning a big kitchen upgrade, contact our kitchen piping experts.
Bud Matthews Services: For all your home service needs in Durham, NC!