Concrete Contractors & Masonry in Chapel Hill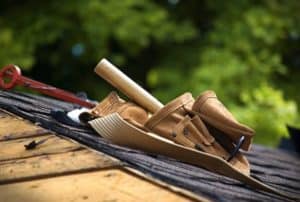 You probably don't think a lot about the masonry and hardscapes around your home, but they are everywhere: walkways, driveways, retaining walls, even your home's foundation. When masonry and concrete ages or becomes damaged, you can't just slap another layer of mix right on top of it and call it a day. Many times, the problem is found much deeper, which is why you want masonry and concrete experts to help you with all your masonry and concrete needs.
Need help with masonry or concrete in Chapel Hill, NC? Then it's time to call the experts at Bud Matthews Services!
COMMON DRIVEWAY REPAIRS
You use your driveway multiple times a day, and while it was made to be durable, it was never made to last forever. No matter your driveway issues, our experts can help. Here are the kinds of common driveway repairs we work on:
ASPHALT/BLACKTOP
Small cracks –small insignificant cracks can quickly become big cracks thanks to precipitation getting inside the crack and moving the soil beneath it, weakening the spot even more. Allowing our pros to repair your small cracks can head off more significant problems down the road.
Spidering/large cracks – if your asphalt has progressed to the point where it has cracks that are 2″ wide or larger, it is probably time for a full replacement.
CONCRETE
Concrete cracks that aren't right on a joint are likely a much deeper issue, requiring a section to be removed and replaced. Our pros will assess the level of damage to your concrete driveway and determine precisely what is needed to fix the problem to restore your driveway.
WHY BUILD A RETAINING WALL?
They may look stunning, but retaining walls serve fundamental purposes too:
They provide the support needed for keeping soil in place – when you lose soil, you run the risk of losing trees on your property and having poor drainage. A retaining wall helps keep the soil in place so that your flora and fauna can take root.
They prevent sink holes – sinkholes develop because of ground erosion. A well–built retaining wall prevents the soil from eroding away; thus, they prevent the development of sinkholes on your property.
They prevent flooding – your retaining wall won't stop a tidal wave, but it will help block water from excessive rain from flooding your yard.
They reduce yard maintenance – there isn't a homeowner around who would be upset at the prospect of less mowing! Not only does a retaining wall add dimension and design to your yard, but it also helps reduce the amount of yard maintenance you have to do.
We can handle all of your masonry and concrete needs. Give us a call and see what we can do for you!