Siding and Roofing Services in Chapel Hill & Durham, NC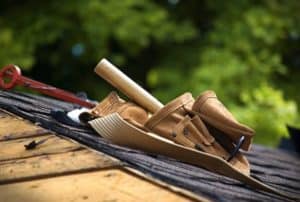 Your home's outside materials and walls will take a beating throughout the years. They are made to be durable, to sustain the elements, but they can't do so for forever. If you are building a new home, you will want to make sure that you choose materials that will last you for the long-term and protect your home as needed.
Our experts have been helping customers with their siding and roofing needs for years, and we can help you too. A lot of tasks go into a siding or roof job, and you want to make sure you are working with experts who know how to properly install, repair, and replace your roofing and siding.
When you need expert siding and roofing services, it's time to call the pros at Bud Matthews Services!
WHAT ARE MY MATERIAL OPTIONS FOR SIDING
It wasn't too long ago that homeowners didn't have very many options when it came to siding. These days, with better products and better design, there is a plethora of siding choices. Our experts can help you determine which type of siding fits best for your home, but it's important also to have an overview of what materials are available:
Vinyl siding
Wood siding
Brick siding
Fiber cement siding
Stucco siding
Stone and stone veneer siding
There is a wide range of material types listed here, and they range from very economical to very expensive.
WHEN IS IT TIME TO CALL FOR ROOFING REPAIR?
You never want to wait too long to repair your home's roof as it only takes a short amount of time to go from a small problem to a big one. Wondering what to look for so you can stay aware of potential roof issues? Here are some common signs:
Shingles that are curling and/or buckling – if your home's roof material is shingles, they should lie flat. A curled or buckled shingle is one that has been worn down past the point of usefulness.
Damaged roofing in your roof valleys – the valleys of your roof are designed to wick water off your roof and down to the ground. If the roofing materials are damaged, corroded, or falling apart in this area, they will need to be fixed.
Missing shingles – missing shingles are a sign that components of your roof are breaking down. It's essential to have an expert examine your roof to see the extent of the repair issue.
Shingle sediment in your gutters – a sure sign that you have shingles that are breaking down is finding shingle granules and sediment in your gutters.
Your roof is an integral part of your home's protection. Let our experts help you keep it intact with our comprehensive roofing services!