Wine Cellar Design in Chapel Hill, NC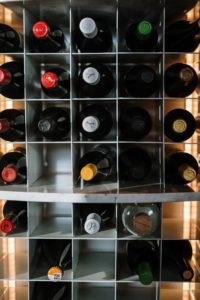 As a wine connoisseur, you know your beloved bottles of reds, whites, and rosés must be stored in specific ambient conditions to age with grace. If you're ready to optimize your wine storage and presentation, it may be time to build a wine room in your Chapel Hill home.
At Bud Matthews Services, we are highly skilled at designing and building custom wine rooms, vaults, cellars—whatever you have in mind. We'll enhance the elegance and sophistication of your storage area to make the wine-drinking experience a truly luxurious affair.
To begin the wine room remodeling process, please call Bud Matthews Services at 919-929-0203 or contact us online today.
Designing & Building a Wine Room
Wine cellars are unlike any other room in the house. They have specific ambient requirements and may need a unique layout and lighting to maximize the presentation. We recommend working closely with a wine room designer to make sure you don't forget anything important. Here are the factors to consider before building your wine vault:
The size of your collection: For many people, installing a wine cooler in the kitchen is sufficient. Built-in, countertop, and freestanding models are available, depending on your kitchen layout, floor space, and aesthetic preferences. Wine coolers can store up to one or two dozen bottles. If your collection is larger than this, or you plan on expanding it, a dedicated wine room may be the answer.
The size and location of your wine room: You can store a collection of up to 250 bottles in just 30 square feet of storage space, plus an adjacent utility room. Just remember, a wine room should have no direct sunlight, so an interior room in the basement or a vault built off the kitchen is best. Then, you'll want to illuminate the space with LED fixtures to minimize heat gain.
Temperature and humidity control: Maintaining the proper conditions is critical for any wine room. You'll need a way to keep the temperature around 55 degrees F and the relative humidity near 60 percent. Adequate insulation and air sealing, plus a dedicated HVAC system, will be necessary for year-round temperature and humidity control.
Your personal style: A wine room isn't just about preserving the value of your collection—it's about creating an elegant presentation and making your prized bottles easily accessible. The Bud Matthews Services team can help you pinpoint your preferred style—modern or traditional, rustic or Tuscan—and implement it in the wine room design.
For help addressing each of these considerations, please contact Bud Matthews Services today. Our design-build experts would be happy to meet with you to discuss your wishes.
Why Choose Bud Matthews Services for Wine Room Remodeling?
As you become excited about adding a wine cellar to your home, it's imperative to choose a remodeling company with experience in this specialized area. A well-designed wine vault balances functional preservation with beautiful design and presentation for the best of both worlds.
Bud Matthews Services brings over 40 years of experience to the table, with numerous wine room projects under our belt. Our family-owned, locally operated remodeling company is located right here in Chapel Hill. We are fully licensed and insured for your peace of mind, and we guarantee your 100% satisfaction.
Contact Us for a Wine Room Remodeling Consultation in Chapel Hill, NC
Our goal at Bud Matthews Services is to exceed your expectations throughout the remodeling process. We do this by delivering high-quality craftsmanship and a consistent, value-based experience. We'll help you design and build the wine room you have always wanted! It all begins with a consultation.
Ready to begin your project? Contact us at 919-929-0203 to consult with our remodeling team today.