Drain and Sewer Pipe Repair Services in Chapel Hill & Durham, NC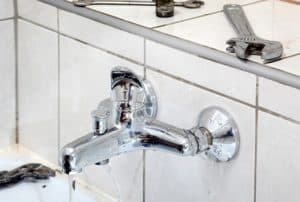 You use your plumbing system to supply potable water throughout your home. This allows you many incredible conveniences, such as showering quickly in the morning to washing veggies for dinner without any hassle. On the other end of matters, though, is the drain and sewer side of your plumbing system. As important as it is that your plumbing system delivers potable water throughout your home reliably, it is equally important that you are able to dispose of wastewater when you are through with it.
To say that your drain and sewer system, then, is of the utmost importance is to make a massive understatement. You rely upon it each and every time you drain your sinks or bathtub, flush the toilet, or the wash your linens. To ensure that your drain and sewer system in Chapel Hill, NC is installed properly and serviced with the expertise the job demands, just work with us. The drain and sewer professionals on the Bud Matthews Services team truly are some of the finest in the industry.
Bud Matthews Services provides drain and sewer services near Chapel Hill, NC and the surrounding areas.
Tips for Preventing Drain and Sewer Issues
Drain and sewer systems really are not all that complicated, though they do require professional installation and servicing. While certain environmental factors may lead to issues with your drain and sewer system, we've found that simple user error is often to blame for such problems as well. By taking a few simple steps, you can great reduce the risk of encountering drain and sewer issues. Use drain guards when doing the dishes, for instance, and remember to clean your whiskers out of the sink after shaving, rather than flushing them down the drain. Also, remember that not everything can go down your garbage disposal. Keep liquid fats and grease out of your drains, as they will congeal and lead to clogs once they've cooled.
Signs of Trouble with Your Drain and Sewer System
The mistake that many homeowners make in dealing with their drain and sewer system is simply ignoring what are fairly obvious signs of trouble. If you are running into frequently clogged or slow–moving drains, for instance, don't just stand around waiting for the tub to clear or pour harsh chemicals in the drain. Hire a professional to resolve the problem. You can avoid further complications in doing so. If you smell the familiar and unpleasant odor of sewage in your home or on your property, or you notice that a certain patch of your lawn is looking a bit extra–fertilized, make sure that you have a professional plumber investigate matters. Your sewer line may be compromised. When in doubt, dial our number to have the situation professionally assessed.
Your first inclination upon discovering a backed up or slow–moving drain may be to run out to the local hardware store in order to pick up a chemical cleaner. We strongly urge you to reconsider doing so. Instead, hire a professional on our staff thoroughly clean your drains for outstanding results.
When your drains are damaged, you quickly realize just how dependent upon them you truly are. At the very first sign of trouble with your drains, you should contact a professional plumber to evaluate matters. The sooner that any necessary repairs are made, the less likely serious problems are to develop.
One of the main reasons for hiring a drain and sewer specialist for all of your service needs is the fact that professional technicians have outstanding tools at their disposal. They also have the knowledge to employ them properly. If you have pipeline issues, know that our pipeline inspection services are meticulous and comprehensive.
Do you use a septic tank on your property? If so, trust us when we tell you that it is absolutely necessary to schedule your septic line services with a trained professional. We won't get into the grim details here, but suffice to say that damaged septic lines can cause serious issues on your property.
When you invite guests into your home, you probably tidy up. Maybe you even break out the vacuum cleaner. While your sewer line is likely not under much scrutiny, it is important that keep its cleanliness in mind as well. When you schedule professional sewer cleaning, you ensure that your sewer line is in great working condition.
Eventually, you may need to replace your sewer line. When you do, you want to hire a skilled professional with the proper equipment to do the job. That way, you can rest assured in knowing that minimal disruption to your property or daily routine will ensue. We can handle any sewer line repairs that you need as well.
Does your lawn turn into a swamp when the rain comes down? If so, you should give us a call to discuss our storm drainage solutions. Many homes simply are not in any condition to provide sufficient storm drainage naturally. Our technicians are here to pick up the slack.