Pipeline Inspection Services in Chapel Hill, Durham NC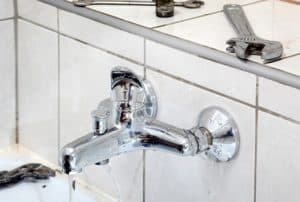 The pipe is the basic building block of any plumbing system. As you've likely noticed in your own home, the number of exposed pipes are few and far between. Considering the sheer number of pipes within your plumbing system, as well as their inherently hidden nature, it is pretty evident as to why problems with your pipes can be worrisome. Just because you cannot visually inspect your pipes on your own doesn't mean that our pipeline inspection experts can't.
Our plumbers are correctly equipped and extensively trained to ensure that your pipeline inspection services are completed accurately, and the results are conclusive.
If you suspect that there is a problem with a pipe anywhere on your property, just let us know. Bud Matthews Services will get on the case right away to ascertain what action should be taken.
WHAT DOES PIPELINE INSPECTION ENTAIL?
Professional pipeline inspection services may entail any number of physical and visual inspections. Most commonly, a thin, flexible rod will be inserted into the pipeline itself. This rod is tipped with a video camera, which can feed images from within the pipe back to a monitor. These images may be saved for later review if necessary. This process allows your plumber the incredible advantage of assessing your pipes from within, in real–time. Needless to say, the information gathered during such a service can prove invaluable. If you determine that your pipes are in trouble, or if you simply have a suspicion of this being the case, let a member of our staff know so that we can evaluate the situation thoroughly.
BENEFITS OF PIPELINE INSPECTION
Professional pipeline inspection can benefit you in several ways. First and foremost, the process is minimally invasive. If there is a leak, we won't have to go around exposing pipes just to find the source. This can help to keep the diagnosing of the problem, as well as its resolution, prompt, and affordable. Another great benefit is the fact that, while inspecting the pipes and looking for a specific issue, our plumbers can evaluate the pipe for any other signs of trouble that could develop into serious problems down the road. All in all, professional pipeline inspection is a simple, elegant way in which to deal with and even avoid, serious plumbing issues.
WHEN TO SCHEDULE PIPELINE INSPECTION SERVICES
Generally speaking, you should schedule professional pipeline inspection services the moment that you suspect that there is a problem with your system. This means that any signs of water leaks, the sound of running water without a clear source, visual evidence of water damage or mold growth, or any other issues all warrant a call to our specialists. Because pipes are generally hidden from view, you may not notice that there is a problem until it's been around for a while. By having your pipes inspected right away, you can ensure that any potential damage to your home is kept to a minimum. Contact us for more information.
Bud Matthews Services provides drain cleaning services near Durham, NC and the Durham NC areas.