Home Heating Services in Chapel Hill, NC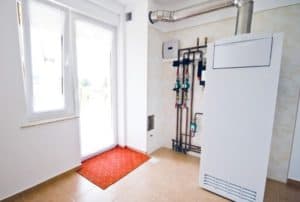 When winter weather arrives in, NC, you want to feel confident that your home's heating system will switch on and provide your family with steady and cozy comfort. You'll also want to know that you won't pay exorbitant heating costs because the system is extremely inefficient or suffering from heating repair needs. Since you probably aren't licensed or trained to handle servicing your heater—let alone install a new one—you will have to turn to HVAC professionals for the work.
For more than 40 years, Bud Matthews Services has served Chapel Hill, NC area homes with high-quality heating services that have kept customers returning to us year after year. We have the experience to tailor a new heating system to your home's specific needs, and we can take care of any heating repairs and maintenance your current heater requires. Our 24-hour, 7-days-a-week emergency service will make sure that your family stays comfortable and safe all through winter, or whenever the temperature falls.
If you want to schedule heating services from an experienced comfort company in Chapel Hill, just call Bud Matthews Services.
Why You Need Professionals for Your Heating Installation and Replacement
Unless you are trying to heat your home with a tiny space heater (which will hardly do any good), you must have professionals handle all the installation work for the system. Unless you have extensive training and access to special tools, you cannot hope to install a new heater on your own or replace an aging heater. In fact, it might actually be illegal for your—or a non–licensed amateur—to attempt this work because of safety concerns with natural gas lines. When you need a new heating system, rely on speed and skill and give our team a call.
Your Chapel Hill, NC Heating Repair and Maintenance Professionals
No heating system can ever promise to work 100% free from malfunctions. If your heating system begins to show signs of trouble, or if it stops working abruptly, you can reach us right away for speedy heater repair services. Never try to make a repair on your own! We will see that your family is kept safe and warm. In the event that you need emergency heating repairs, we're standing by 24 hours a day to bring you the repairs you need to get your home's heating system back in working order!
To prevent future heating repair calls, as well as to provide your heater with the longest service life possible, sign up for regular maintenance with our technicians. An annual visit will give you the confidence that your heating system will continue to function at its best for many years to come.
We Offer Comprehensive Heating Services in Chapel Hill
We're serious when we say that our heating services are comprehensive. Below are only a few of the areas that we cover when it comes to providing winter comfort for your home. Call Bud Matthews Services to find out more.
Ductless Heating
You no longer need ductwork to enjoy central forced-air heating. We install ductless mini-split heat pumps that send heated air directly into rooms through individual blower units mounted throughout the house. Like all heat pumps, ductless heating systems are also capable of supplying cooling when you want it. Call us to schedule installation or service.
Furnaces
The furnace is the most common type of home heating system in the country because of its high output of heat. Odds are high that your home has either an electric or gas furnace to provide winter warmth. You can rely on our technicians for furnace installation, replacement, repair, and maintenance.
Heat Pumps
The flexibility of heat pumps makes them popular with many homeowners: a heat pump can work as either an air conditioner or a heater. In heating mode, a heat pump works at high energy efficiency that can help your household save money each year. Let our technicians provide you with the heat pump services you need.
Thermostats
Although a small part of the overall HVAC system, the thermostat is crucial for its operation. Make sure that you have the best thermostat possible—call our technicians to arrange for repairs or an upgrade. We offer high-technology thermostats that will help you receive the best service from your home heating.
Zone Control System
You don't need to heat up every room in your home when the heating system turns on. Thanks to a zone control system, you can shut off particular regions so you won't waste money. Zone control can be installed as part of a new heating system, or you can arrange for our technicians to retrofit your current HVAC system.
Commercial Heating
The team at Bud Matthews Services does more than work on residential heating. They are also trained to handle the special needs of commercial buildings. You should never allow an amateur to put your building or business at risk because of sloppy work, so always call on a quality commercial heating service team—call on us.
Choose Bud Matthews Services for Expert Heating Solutions in Durham & Chapel Hill, NC
Our team has spent more than 40 years cultivating a reputation of reliability and effective heating services for homeowners throughout the Durham and Chapel Hill area. We promise that our friendly technicians are not only the most highly trained in the region, but they are friendly and will clearly communicate their work to you from start to finish. Further, we always provide upfront pricing so that you never have to worry about surprise fees on your final bill!
Schedule your heating services in Durham or Chapel Hill today by calling 919-929-0203 or scheduling your appointment online! We're here to provide unmatched service and excellence in customer service!