Ductless Heating in Chapel Hill, NC by Bud Matthews Services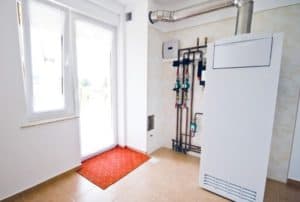 For decades, the standard way that a central forced-air heating system (such as a furnace) heated a house was to send the warm air through a network of air ducts leading to the different rooms. Although this is an effective way to heat a large space, ductwork also comes with drawbacks, such as air loss through leaks, consumption of space, and dust/dirt collecting in the ventilation system.
The alternative? A Ductless mini split. A ductless mini split heat pump is a device that provides central comfort for a house but doesn't use ductwork.
HOW DOES A DUCTLESS HEATING SYSTEM WORK?
A ductless heating system is a type of heat pump. It operates by circulating refrigerant between an indoor and outdoor set of coils, drawing heat from the outdoors and then releasing it indoors. What sets it apart from a conventional heat pump is that a ductless system uses multiple indoor units, rather than one unit connected by ductwork. The indoor units are small air handlers that contain a blower fan and a refrigerant coil.
These units are mounted in different rooms, and each connects through the back of the wall to the outdoor unit with a power and refrigerant line. The air handler sends heated air directly into a room, without any need for ducts.
REASONS TO CONSIDER INSTALLING A DUCTLESS MINI SPLIT SYSTEM
Here are some benefits to ponder when you are considering having a ductless system installed.
Heating and cooling: As with other heat pumps, a ductless mini-split can reverse the direction it moves heat and can also operate like an air conditioner. You'll have comfort for the entire year with only a single installation.
Energy efficiency: A ductless heating system has smaller mechanical parts than a standard heat pump, so it costs less to run. It also will save you money because it has no ducts that can develop leaks and start to lose heat to the outside.
Zone control: Because each air handler can be operated separately from the others, you only have to provide heating (or cooling) to rooms that are currently in use. This is another way that a ductless mini split can save you money.
WE OFFER DUCTLESS HEATING AND COOLING SERVICES IN CHAPEL HILL, NC
If you don't have a ductless mini-split heat pump in your home, you're probably intrigued with the possibility of having one installed. They aren't right for all houses. They work best with new buildings and new construction that doesn't have space for ducts, or for remodeling work and add–on rooms. Let our specialists help you discover if a ductless mini split is the best option for you.
If your home already has a ductless system installed, you can rely on Bud Matthews Services whenever it's time to repair it or arrange for its routine maintenance. We have many decades of experience keeping homes in Chapel Hill, NC warm.
Call us today at (919) 420-3935 for a free consultation or click here to book an appointment online.