Furnace Repair & Installation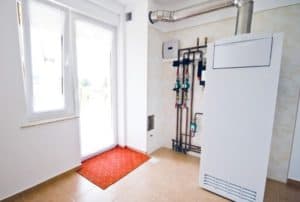 Furnaces are the most common heaters in the U.S. for one important reason: they work! When you walk into a heated home, chances are that the appliance responsible for keeping it warm is a furnace. Furnaces are generally reliable and prompt, and the cost of installation tends to be lower than that of installing a similarly sized alternative whole-home heating system.
FURNACE INSTALLATION: SELECTING & SIZING
Our specialists know that furnace installation involves a lot of time and thought. You don't want to simply look for the best deal without considering the brand of the system, the efficiency rating, and its size. The experienced HVAC technicians at Bud Matthews Services will take careful steps to determine the necessary size of your new heating system because we know that if is too large or too small it can cause you a lot of costly problems in the future.
After our experts discuss your budgetary requirements, they will recommend an efficient system, specifically tailored to your home. Following installation, our professionals will make sure that your furnace is functioning correctly and safely.
The two types of furnaces are: 
ELECTRIC FURNACE: An electric furnace is an excellent option for people without access to a natural gas line. They are cost-effective and low maintenance, and in our area, they are not very expensive to run, especially if you purchase a system with a higher efficiency rating.
GAS FURNACE: The power, efficiency, and convenience of gas furnaces make them the most popular systems around. Chances are that you have one in your home, so when your system needs repairs or maintenance, you can trust our experienced staff to do the job right the first time. If you need a new heating system, call us to find the gas furnace installation or replacement that's right for your home.
Furnace Repair Services in Chapel Hill, NC
The highly trained team at Bud Matthews Services has the industry expertise to repair your home's furnace quickly and effectively. We'll make sure that your furnace is providing adequate heat to your home and always offer upfront pricing on all of our repair services. Whether you have dirty filters that are causing your furnace to short-cycle or you simply need routine, preventative maintenance, we'll thoroughly diagnose your furnace and provide you with the prompt repairs necessary to get things back in working order.
Common Signs You Need Furnace Repair
Wondering if your furnace is in need of professional repairs? Be on the lookout for the following indicators that you should schedule the help of a expert:
Excessive noise coming form your furnace. If you hear loud banging or clanging noises while your furnace is operating, you could have a loose component.
Inadequate heating throughout your home. This could indicate that your furnace has reached the end of its service life, especially if it's more than 10 years old. However, it could also have a simple solution such as replacing the air filter.
Strange smells coming through your vents. This commonly indicates that you have mold or mildew in your furnace or ductwork and should be dealt with quickly for the health and safety of everyone in your household.
Unexpected spike in energy bill. If your furnace is working harder than it needs to in order to heat your home, you'll see the results on your monthly energy bill.
Notice any of the above signs that your home's furnace needs repair? Contact the friendly and experienced team at Bud Matthews Services today by calling 919-929-0203 or scheduling your furnace repair online! 
Preventative Furnace Maintenance in Chapel Hill, NC
The best way to ensure that your furnace is operating effectively and at optimal efficiency is to schedule regular furnace maintenance. During your maintenance session, our specialized technicians will thoroughly inspect your furnace to check for any small issues that could pose bigger problems down the road, saving you time, money, and unnecessary stress. Much like an annual check-up with your doctor or a tune-up for your car, the BMS team will help you get the longest service life out of your investment and guarantee that your furnace is performing at the top of its game.
For your benefit and convenience, the BMS team offers comprehensive maintenance agreements that will keep your home's heating system running efficiently all winter long!
Don't wait until you have an expensive breakdown on your hands—schedule your Durham or Chapel Hill area home's preventative furnace maintenance today! Call us at 919-929-0203 or book your appointment online! 
Frequently Asked Questions About Furnaces
When it comes to installing, repairing, and maintaining furnaces throughout the Chapel Hill area, our experienced team feels like they've seen and heard it all. That's why we've put together some of the most common questions we receive about furnaces from homeowners just like you!
What are the advantages and disadvantages of furnaces?
Furnaces do a great job of efficiently heating homes, which is why they're one of the most common heating systems implemented throughout the country. On one hand, electric furnaces often cost a bit more on your monthly bill than gas furnaces, however, gas furnaces tend to have a slightly shorter services life.
How long does a furnace typically last?
Furnaces typically last between 15 and 20 years. If you invest in regular maintenance, which we highly recommend, you may be able to extend your service life a bit more.
How do I know if a gas or electric furnace is right for me?
Electric furnaces are typically cheaper to install, but may increase your monthly utility bill over the gas alternative. On the flip side, gas furnaces have a higher heat efficiency, making them better suited for colder climates. The team at BMS will work with you diligently to determine the best type of furnace for your home, budget, and comfort needs.
How often do I need furnace maintenance?
If you have a new furnace, you may be able to get away with maintenance every other year. However, if your furnace is getting older, it's best to schedule maintenance every year to avoid costly repairs stemming from undiagnosed issues.
More questions about furnaces? Give us a call at  919-929-0203 or reach out online! Our knowledgeable team is happy to answer any questions you have! 
CALL BUD MATTHEWS SERVICES FOR FURNACE REPAIR & REPLACEMENT IN DURHAM & CHAPEL HILL
When you need furnace services in Chapel Hill, NC, Bud Matthews Services is the team to call. We also offer maintenance and repair services, and you don't need to have installed your furnace with us to receive our services. Our technicians are friendly and respectful, and we feel confident that you will want to return to us for future services once you work with our professional team.