Electric Furnace Repair & Installation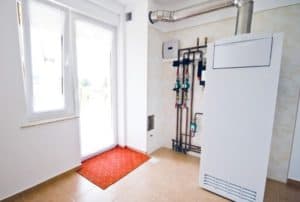 While gas furnaces may be a more popular option for heating installation nationwide, electric furnaces are a fantastic choice for whole-home heating systems in our area. Electric furnaces are commonly chosen in homes where there is no local natural gas line connection, but there are many other reasons to select an electric furnace, including safety, durability, and the efficiency of modern units.
THE BENEFITS OF ELECTRIC FURNACES IN CHAPEL HILL, NC
Electric furnaces are an ideal fixture in homes where installing a gas furnace is not an option. Gas furnaces typically have a lower cost of operation because natural gas does not cost much to use. However, electric furnaces tend to be less costly initially. Additionally, they eliminate the safety concerns that often come with installing a gas furnace.
High-efficiency electric furnaces are available that do not consume nearly as much energy as those built decades ago. Due to our relatively mild climate, having an electric furnace in the Chapel Hill area in North Carolina can be just as efficient and cost-effective as a gas furnace. As long as you have a professional install it and maintain it, your electric furnace should last for well over a decade.
WHEN TO SERVICE AN ELECTRIC FURNACE
There are a few signs your system may give off if it needs a repair. One sign to look out for is if all or part of your home suddenly feels colder than usual. You may notice smells from the vents, or there may be unusual noises coming from the system. In any case, you should call an expert for services right away. The temperatures in the home may still be bearable, but it's not something you should put up with. Your furnace may suffer additional wear and tear from all the time spent running while damaged, and the repairs that result could be costly.
Additionally, you should call an expert for maintenance once a year. An electric furnace that has been installed correctly may be quite durable, but it can run into problems when you least expect them.
An expert can make a visit to your home once a year to ensure the proper operation and continued efficiency of your system. They can also fine-tune parts and clean off the blower components to help maintain the lifespan of the unit. Call us for more information about our electric furnace maintenance services.
SCHEDULE ELECTRIC FURNACE SERVICES WITH BUD MATTHEWS SERVICES
When you need to schedule electric furnace services in Chapel Hill and Durham, NC, you can trust the quality work of our skilled, trained experts. We show up on time with a friendly demeanor and the proper tools and equipment.
We will be honest and upfront about the work that needs to be done, and we won't try to sell you services you don't really need. Just get in touch with Bud Matthews Services today to get electric furnace installation, replacement, maintenance, or repairs from people you can trust.
It's our goal to see that you have an electric furnace you can depend on. Make us the home heating people you turn to in Chapel Hill, NC whenever you need fireplace services.
Call Bud Matthews Services at 919-944-4600 or contact our team online to schedule a furnace inspection.