Commercial Plumbing Services in Chapel Hill, NC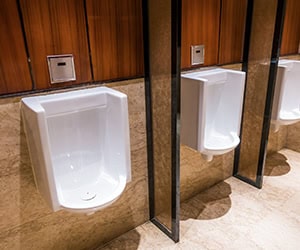 Commercial properties of any size or shape are bound to have extensive and complex plumbing systems with which to distribute potable water and to drain wastewater. To do so correctly, your commercial plumbing system must be designed, installed, repaired, and maintained by skilled, professional plumbers. Our commercial plumbing experts are on hand to see to your every commercial plumbing need.
We understand just how essential the successful operation of your commercial plumbing system is to your endeavors. We also know that the intricacies of these systems necessitate the attention of technicians specializing in such systems. Work with us, and you will see what truly exceptional commercial plumbing services look like.
CALL FOR COMMERCIAL PLUMBING INSTALLATION AND REPLACEMENT SERVICES
Whether you need a single addition to your commercial plumbing system installed, or you have a new property in the works that requires the installation of an entirely new commercial plumbing service, it is always necessary to schedule your installation with a qualified professional. We use only the finest materials when installing commercial plumbing systems and components.
No plumbing component will last forever. If you need an entire system overhauled to bring it up to our modern standards, or you just have a few components that need replacement, count on us to do the job properly from start to finish.
LET US REPAIR AND MAINTAIN YOUR COMMERCIAL PLUMBING SYSTEM IN CHAPEL HILL
The most important thing for you to keep in mind in terms of your commercial plumbing system is the fact that there is no such thing as a problem "minor" enough to ignore. While you may not have an entire floor flooding before your eyes, any and all problems with your plumbing system ought to be reported to a trained professional immediately. Potential warning signs may include excessively rusted or corroded pipes, indications of leaks, including mold or mildew growth and water damage, low water pressure, frequently backed up drains, sewage odors, and more. Whatever the case may be, count on our commercial plumbers to get to the root of the problem and to resolve it entirely.
While pipes may not require the routine maintenance that mechanical components do, your commercial plumbing system is still going to need some maintenance over the years. Whether it's having your drain and sewer lines cleaned free of debris or having a commercial water heater tuned up to ensure that it functions as efficiently as possible, you can count on us. Contact us today to get your commercial plumbing system in excellent working order.
FAQs
Some frequently asked questions about commercial plumbing services include:
I need some commercial plumbing work done, but I'd like it to be after-hours. Can you do that?
We understand plumbing services during business operation hours can cause problems. This is true for many companies, especially restaurants. We'll work with you to determine when the time's right to make plumbing repairs and installations for your business.
Is there a big difference between a commercial and residential plumbing service?
There are many differences between commercial and residential plumbing repairs and installations, but we never compromise our work ethic or quality for any type of project.
Bud Matthews Services believes in B2B (business-to-business) support, so we offer the best prices to North Carolina organizations in our communities. But we also want the most affordable prices for our friends and neighbors here in North Carolina.
The differences between commercial and residential plumbing are:
Complexity – Commercial properties are sometimes older buildings, but even new buildings have occasional plumbing "surprises."
Convenience – Most homes have two bathrooms serving approximately four people. If one bathroom is out of commission, you simply use the other one. When one or two bathrooms serve an office complex, a plumbing issue can cause a great deal of inconvenience, so we need to work faster to get your plumbing fully functional.
Liability – The complexity of commercial plumbing puts the property more at risk for damages. For example, a water line break in a one-story house is a problem. A water line break on the fourteenth floor of a high-rise is a much bigger problem.
Public health – Sanitation shouldn't be compromised in any kind of plumbing project, but commercial properties – especially food-industry companies – have very strict standards that plumbing professionals must observe.
Usage – Both commercial and residential plumbing have ebbs and flows in their usage rate, but overall, standard commercial plumbing requires more, bigger, and stronger plumbing installations. Commercial plumbing must meet municipal codes and regulations that differ from residential plumbing.
There's something wrong with my pipes, but I don't know what. How can you help me figure it out?
Our plumbing professionals are trained in the latest technology, and it greatly benefits commercial plumbing. Some of the technology and techniques we use include:
High-tech cameras that can expose plumbing and pipe problems before they become critical
Inflatable test balls to partially plug lines while we work
Sound-based leak detection
Trench technology