Water Heater Repair and Installation in Chapel Hill & Durham, NC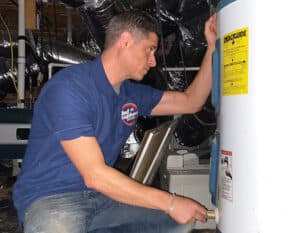 Water heaters have a very basic yet fundamental purpose in our households. Hot water allows for cooking, cleaning, and bathing: the foundations of civilization, all brought to you by a cylindrical tube located in your basement or garage. Water heaters have branched out and now utilize different systems for performing the same task, but old-fashioned tank models remain in wide use. And no matter what type of water heater you have, you need a service that can install, repair, and maintain it to keep it running at its best.
That's where we come in. At Bud Matthews Services, we're trained to handle problems with water heaters of all varieties. Whether you have a tank model, a tankless water heater, or some variety of heat pump water heater, we're ready to install, maintain or repair it for you. Don't trust some other company with this all-important component in your household. Call us today, and let us show you what we can do.
No matter what kind of water heater you have, Bud Matthews Services provides expert service throughout Chapel Hill, NC.
Signs You Need Water Heater Repair
Most people don't know their water heaters are starting to have problems until they wake up without hot water, but there are actually signs that show up before the system fails completely. Watching for and addressing these signs can help you get repaired before your water heater stops working.
Hot water fluctuates
You have low water pressure
The water heater leaks
The hot water seems metallic or cloudy
The system is making unusual sounds
At the first sign of problems such as these, reach out to Bud Matthews Services at 919-929-0203 or contact our team online for help.
When to Replace Vs. Repair Your Water Heater
Water heater repairs are typically straightforward, but sometimes it makes more sense to replace the system instead of repairing it. Water heaters have a life span of about 12 to 15 years. If yours is nearing the end of that life span and has a serious repair need, then it may make more sense to replace it. If the repair is going to cost about half the cost of replacement, you may save money in the long run by replacing your water heater with a new, more efficient model.
To get expert advice about water heater replacement versus repair, call Bud Matthews Services at 919-929-0203.
Troubleshooting your Water Heater
If your water heater is giving you trouble, there are a few steps to take before calling for professional help.
Check the thermostat – Make sure the temperature is set properly.
Check the pilot light – If your water heater has a pilot light, make sure it's lit.
Fix any leaks – Check for leaks and tighten bolts or replace gaskets if that is the cause of a leak.
Replace the anode rod – If the water is rust-colored, it may be due to a failing anode rod. Replace it with a magnesium one to stop the problem.
Contact the team at Bud Matthews Services if these troubleshooting problems don't work.
Different Models Perform the Same Duties
The main difference in water heaters is how they do their job. Tanked models use a large tank that heats up via a series of burners, while tankless systems use heated coils wrapped around pipes that the water passes through on the way to the faucet. Heat pump water heaters facilitate heat exchanges with the outside air to warm their water, helped out by circulating refrigerant. They all perform the same task, but they use radically different means to do it. When it comes to installation and repairs, you should never trust a one–size–fits–all approach to them.
Most homes still use tank heaters because they're eminently reliable and do their jobs without complaint. That can sometimes lead to complacency, however, which means you should always have yours serviced at least once a year. If anything usual crops up, from strange noises to discolored water, pick up the phone and call Bud Matthews Services right away!
Tankless water heaters involve a more complicated installation process than tanked models, and because they have more complicated components, they tend to need repairs more often. But because they don't need to heat an entire tank full of water, they use much less energy than tanked models, and installing one may be a perfect fit for your home.
Heat pump water heaters use the principles of air conditioning to heat your water: heating refrigerant and transferring the heat into the water supply. They require specialized technique to fix when repairs are needed, but like tankless systems, make up for it with inexpensive heating costs.
Water Heater Repair Needs to Take Place the Right Way
Repairing a water heater means taking a hard look at the problem and determining the best method of resolving it. A faulty valve or a leaky connector pipe is one thing, but if the trouble is more significant, you need a service that will not only fix it, but will make sure it stays fixed and that you can go forward without worrying that your water heater will encounter the same problem again a few months later. There's no point in running all over town looking for the right service, when all you have to do is contact Bud Matthews Services. We can conduct any kind of repair your system may need and we'll discuss your options with you beforehand so you know whether repairs are practical or if replacing the water heater might not be better.
Getting the Most out of Your Water Heater
The variety of water heaters available means that you need a service with the knowledge and experience to handle them all. That means setting up an annual maintenance session that checks for potential problems before they get started. A plumbing technician can do wonders simply by tightening loose valves, draining sediment out of the tank, replacing the anode rod, and similar steps. By trusting a professional to do it, you can rest assured knowing that those little details are taken care of, and if further repairs are needed, they can spot those problems when they're still small enough to be treated easily. Bud Matthews Services has the personnel to handle the issue properly. Give us a call today, and let us show you what a difference we can make!
Water Heater FAQs
Do water heaters need to be serviced?
Water heaters should be flushed every six months to minimize buildup in the tank. This helps remove sediment and prevent mineral buildup within the water heater tank.
What are the signs of a failing water heater?
Signs of a failing water heater include:
Lack of hot water
Popping noises from the water heater
Cloudy water
Leaking water tank
If you're noticing these problems, have a plumber take a closer look at your water heater to see if there is a problem to repair or if it's time for a new one.
What would cause a water heater to stop working?
Water heaters can stop working because the pilot light goes out, because something in the system gets clogged, or because they are too full of grit and grime to properly heat the water. It can seem like the water heater isn't working if you are asking for too much output.
Can I replace a water heater by myself?
Water heaters require the proper connections to protect your home from carbon monoxide poisoning and to ensure efficient operation. It's always best to work with a qualified plumber to ensure the process is done correctly.