Heat Pump Water Heater Services in Chapel Hill & Durham, NC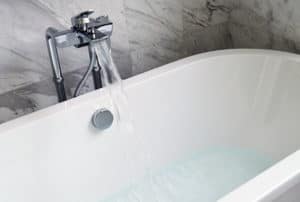 A heat pump water heater uses a different means of warming your household water than the traditional methods. Heat pumps function like refrigerators only in reverse: using refrigerant to warm the water in the heater before distributing it to your home. It's quite efficient, using much less energy than traditional water heaters and saving you a great deal of money in the process. But it also means that specific knowledge is needed to install, repair, and maintain them properly.
That's where we come in. Our trained professionals know the specifics of heat pump water heaters. If you need a new system installed, we can make sure the job is done right! We can also help you out with all of your routine maintenance needs!
Contact Bud Matthews Services with any issues surrounding your heat pump water heater in Chapel Hill, NC.
HOW DO HEAT PUMP WATER HEATERS WORK?
If you opened up the internal workings of your heat pump water heater, it wouldn't look all that different from the system in your refrigerator. The main differences are that the process is in reverse. Refrigerators use refrigerant gas to pull heat from inside the fridge, then release hot air outside of the system to compensate. Heat pumps, on the other hand, pull heat in from the outside air and release it into your water tank. The system can be retrofitted with traditional water heaters in some cases, and our mild weather makes it an excellent fit for our climate regardless.
FIXING HEAT PUMP WATER HEATERS IS MORE THAN JUST A MATTER OF PLUMBING
Because of its unique nature, repairing a heat pump water heater isn't merely a matter of plumbing. While many problems that spring up do require a plumber's skills, the apparatus by which it does its job more closely resembles an air conditioner. Heat pump water heaters also need a separate set of skills to handle. Our technicians have experience on all models of water heaters, ensuring that we can address any concerns you may have professionally and effectively. Trusting a less qualified service could get you into the wrong kind of hot water, so call us today!
BUD MATTHEWS SERVICES IS HERE WITH HEAT PUMP WATER HEATER SERVICE
We understand that you're looking to save money with your heat pump water heater without skimping on efficiency. That's why we handle every aspect of water heater service with the same confidence and pride with which we undertake all our services. We can install or replace a heat pump water heater in your home entirely, ensuring that your new system starts its life without a hitch. We'll perform regular maintenance sessions to keep it running in tip-top shape and in the off–chance that a repair is required, we will be there in a flash. Give us a call to get the process started. You'll be glad you did!