Tank Water Heater Services in Chapel Hill & Durham,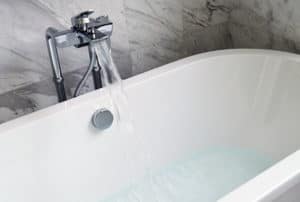 We often see several different types of water heaters, but for most people, the traditional model is still the best. Tank water heaters provide a no-fuss reliable service and usually do their jobs without complaint. But just because your water heater is low-stress doesn't mean you can ignore its periodic requirements. That usually means a regular maintenance session to keep it running at its peak, but it can also mean repair sessions called in quickly when it breaks down, and installation or replacement when the time comes to put in a new one.
Our extensive experience means you don't need to shop around when looking for a quality water heater service, and no matter what you have in mind we're here to make it happen for you. Give us a call to set up an appointment.
Bud Matthews Services handles tank water heater services in Chapel Hill, NC, so call us today!
PROBLEMS WITH TANK SYSTEMS STEM FROM LACK OF MAINTENANCE
In many cases, repair issues with tank water heaters are quite serious: anything from breaches in the system to faulty burners. And in many cases, they stem directly from a lack of maintenance or regular servicing. Sediment can build up on the bottom of the tank, causing damage to the tank walls, while anode rods inside the tank need to be periodically replaced to keep rust away. You can count on us to provide reliable annual maintenance to nip those issues in the bud. Over time, maintenance will also help your water heater maintain its efficiency and last longer.
TANK WATER HEATER INSTALLATION AND REPLACEMENT NEED PROFESSIONAL GUIDANCE
Installing a new water heater isn't a job for an amateur. It takes training and experience to know which system will work for you. The same holds true at the end of your water heater's life when you will eventually need to replace it. Our goal is to start your new water heater – whether it's installed for the first time or replacing an older model – off on the right foot. That means selecting a model that meets your needs as well as placing it correctly in position to ensure that it operates at maximum efficiency from the first day. We have the skills for the first-rate installation, so give us a call today.
RELY ON US TO DO THE JOB WITH YOUR TANK WATER HEATER
Your water heater is a staple of your household, providing hot water for cooking, cleaning, and bathing. When it runs into trouble, you need to know that the service you summon will do the job. We have spent years servicing water heaters throughout the area, and our trained staff is ready to handle any issue we may encounter. Call on us first to handle any problems you may experience, whether it's a full–bore replacement or just a little TLC to help keep it running at its best. We'll help your system stay running through thick and thin, helping you make the most out of your investment and keeping your home in hot water for years.