Remodeling a Kitchen: What Comes First?
A kitchen remodel is a great way to transform and modernize any home. Many of the homes in neighborhoods today were built more than twenty, thirty, or even forty years ago, with kitchens designed for a previous era. You can redesign the layout, install the latest efficient appliances, and personalize your home's kitchen to your own personal tastes.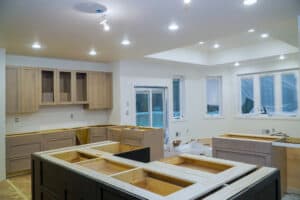 When remodeling a kitchen, what comes first? At Bud Matthews Services, we understand the value of having one company that can handle every step of your home improvement projects. After all, every system is interconnected, from your appliances and plumbing system to your stove and gas line. Our renovation experts will help you understand each step of your kitchen remodel and see your project to completion.  
The First Step When Remodeling a Kitchen: Planning
Every kitchen remodel starts with a comprehensive plan. You will begin by mapping your kitchen, envisioning the kitchen you want, and designing a new kitchen that will fit in the space. Whether you are rebuilding the cabinetry or making a few key changes, a complete plan is essential to guide the steps needed to enact your remodel from beginning to end.
Once you have framed your plan, you can begin building a budget based on material costs and reasonable labor hours. With a plan and a budget, you're ready to work closely with our kitchen remodeling team to turn your kitchen design into a plan of action.
The Average Kitchen Remodeling Process
Once you have your kitchen remodeling step 1: The Plan, you can break down the implementation phase into a practical series of steps. Most kitchen remodels follow a predictable process that starts with demolition and ends with plumbing and electrical fixtures
Kitchen Demolition
For a full remodel, the first actionable step is tearing out your old kitchen. Demolition involves removing old appliances, cabinetry, and fixtures so that you have space to rebuild. It may also involve removing walls or portions of walls.
Kitchen Rough-in
The rough-in is when mechanical, electrical, and plumbing lines are laid in where they would go behind the walls and cabinetry. 
Wall Finishing
Once the utility lines are in, you can rebuild your walls, including completely reinventing the kitchen with more open space, structured enclosers, pass-through windows, and room for cabinets.
Flooring Installation
With the walls in place, you want to finish your flooring before the cabinets go in. Most kitchens have tile or roll-out flooring, but composite laminate boards (modern wood floors) are increasing in popularity.
Cabinets & Countertops Installation
You're ready to install your new cabinetry design when the walls and floors are done. This is where your layout really comes to life. Cabinets are built to support the countertop, which is installed when the structure is done.
Kitchen Appliance Installation
Your cabinetry will have left room for appliances, which are installed below your new countertop. The oven, dishwasher, and some built-in fridges go in during this phase. Expert appliance installation ensures that everything is properly mounted and hooked up to the necessary utility lines.
Plumbing & Electric Installation
The final stage is to connect your plumbing and electrical fixtures. The sink and faucet, water inlets and drain outlets, and power supplies for your appliances are finalized during this stage. Your kitchen plumbing is the heart of your kitchen's functionality.
Call the Kitchen Remodeling Experts in Chapel Hill, NC
If you are planning a full-scale or partial kitchen remodel in Chapel Hill, NC, Bud Matthews Services can help you secure top-quality performance from your new kitchen. When remodeling a kitchen, what comes first is a planning session with our pro kitchen renovation team. We will then ensure that every step of the process is completed expertly and achieves your vision of a new dream kitchen. 
Contact us online or book a consultation service anytime to take the first step.