Flooring Services in Chapel Hill & Durham, NC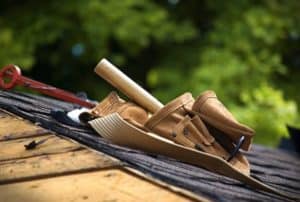 The floors in your home need to serve two essential purposes: first, they give you a place to walk that isn't dirt or plywood, and second, they add ambiance and character to your home. Choosing the wrong material or style could make your home look and feel uncomfortable – but not when you have the experts from Bud Matthews Services helping you with all your interior floor needs.
Our experts can help you choose and install brand-new flooring, repair existing flooring, replace damaged flooring, or even add some beautiful custom carpentry work to make your floors stand out. We have worked with all kinds of flooring materials, including tile, vinyl, and laminate, and will make sure your floors reflect the look and feel you want.
DIFFERENT TYPES OF FLOORING OPTIONS FOR YOUR HOME
Over the last decade or so, lots of different types of flooring options have become available for homeowners. In fact, there are so many it can be a bit overwhelming trying to decide which type(s) of flooring to go with. Our experts can help you determine what floor choice(s) will best fit your needs and your home. Here is a quick overview of the different types of flooring from which you can choose:
Hardwood
Bamboo
Linoleum
Laminate
Ceramic Tiles
Marble
Carpets/rugs
Vinyl
Rubber
Cork
As you can see, it's quite a list of options, but our experts are here to help you find the right flooring for your home!
Tile Flooring Installation
Tile floors are durable and low-maintenance. If you want an eco-friendly building material that is water-resistant and won't negatively impact your home's air quality, tile floors are an ideal choice.
Wood Flooring Installation
Wood floors are strong and enhance the look of every room in your home. They are easy to clean and add lasting value to your property. A genuine wood floor won't fade with time and will create a cozy, comfortable atmosphere for you to enjoy year after year.
Laminate Flooring Installation
Laminate floors are durable and highly resistant to scratches and moisture penetration. They are easy to clean and will resist impacts that can dent hardwood floors, and are perfect for families with pets or children. A high-quality laminate floor is virtually indistinguishable from a natural wood floor.
Carpet Installation
Soft and comfortable, the carpet creates a gentle footing that won't hurt your toes as you walk around. Carpet absorbs sound and can help you rest and relax at the end of a long day. With regular vacuuming and cleaning, your carpet can also help improve your home's indoor air quality and alleviate symptoms of allergies and other breathing conditions.
Vinyl and Linoleum Installation
Linoleum floors are cost-effective and designed to last for 20 years or more. It's one of the most affordable flooring options that is easy to repair and maintain, and it possesses anti-bacterial properties. It is quiet to walk upon, and SPC rigid core options are resistant to dents, water, and other damage.
Why Choose Bud Matthews Services?
At Bud Matthews Services, we are proud to say that we do it all. When you need air conditioning, heating, water heater, sewer, construction, or fireplace services, our team of experts has the skills and expertise you can depend on.
When you want flooring services in the Triangle, you can count on our team to deliver the following:
Honest, fair, straightforward pricing
Full warranty on all services performed
Fast, responsive communication
Licensed, bonded, insured, highly trained professionals
Quality craftsmanship
Reliable advice and dependable recommendations
Contact Bud Matthews Services at 919.929.0203 for more information about the flooring options and services we offer to clients in the Triangle and surrounding communities.
QUANTITY IS CRITICAL
There's nothing like almost finishing a flooring installation only to find that there isn't enough left. However, when you hire our experts to install, repair or replace your flooring, this will never be an issue. Our pros take the time to correctly measure and calculate how much flooring you need plus a slight overage. While you should always allow a trained expert to handle the calculation, here are the four main factors of that calculation
Step 1 – determine the full square footage of the room
Step 2 – subtract the square footage of room features like a fireplace as these areas won't need flooring
Step 3 – account for entryways
Step 4 – add in overages
Your Bud Matthews Services pro will know exactly how to calculate the amount of flooring you'll need for each room in your home. You don't have to do your flooring alone when you have our experts on your side!
CALL BUD MATTHEWS SERVICES FOR ALL YOUR HOME FLOORING NEEDS
Installing a floor poorly can mean headaches for years to come – but not when you call us for help. Our experts will review your options with you and help you choose the right type of flooring to match your needs and your home's look and decor. Like your floors but need repair? Let us help. If possible, we'll repair your flooring using the original materials. If not, we'll make the replacement blend seamlessly with your existing floor. Give us a call today and see what the Bud Matthews Services difference is all about!