Bud Matthews Before & After
Posted on:
September 30, 2021
When Bud opened Bud Matthews Services 40 years ago, he focused on repairs and installations. He wanted to help make people's homes look, feel, and work better—and he succeeded. Today, Bud Matthews Services is still doing the great work that Bud set out to do in 1981: appliance repair and installation, HVAC repair & installation, and plumbing. But with Bud's son Noah at the helm, the Bud Matthews Design/Build crew is also working to create beautiful new spaces for families throughout Chapel Hill and the surrounding area.
Today, we're sharing one of our favorite Design/Build transformations from the past year. Check out these before & after shots:
Whole Home Renovation in Chapel Hill
This 1950's Chapel Hill home on a lovely, wooded lot has great bones. However, its interior and exterior definitely needed a few modern upgrades. Here's how Bud Matthews Services helped this homeowner bring his home into the new millennium.
Entryway Upgrade
The Bud Matthews Design/Build team started by adding a front porch to the existing home. The additional patio and partial wall create an inviting outdoor space that also functions as an entryway and outdoor mudroom. This makes it much easier on the homeowner when guests visit.
In the process of renovating a home, we sometimes encounter secondary issues that need solving. In the case of this Chapel Home home, we discovered stormwater drainage issues that we were able to resolve through the process of adding the porch.
Before                                                            After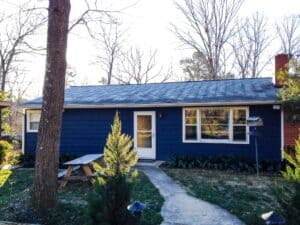 Re-envisioning the Living Room
Next, Bud Matthews lightened up and modernized the home's living room. To start, we repaired several aspects of the fireplace: the flu liner, the brick & mortar, and the damper. Adding a functional damper is essential for lowering energy bills and preventing heat loss in the home.
Once we got the fireplace working correctly, we removed its dated brass surround and dressed it up by painting the brick and adding attractive open shelving along the wall. We also lightened up the living space with the addition of an overhead light fixture and new front windows that allow for an expansive view of the wooded lot.
Before                                                            After
Kitchen Renovation
Finally, the Bud Matthews Services Design/Build team gave this tired kitchen a new life. First, we opened up the kitchen to the dining space (which we, in turn, opened up to the new living room, creating a more natural flow within the home). Then we adjusted the footprint of the kitchen even further by removing the peninsula countertop and replacing it with an island that doubles as a breakfast bar. After all that heavy lifting, we got to the fun part: installing all new appliances, adding modern lighting, and building in spacious cabinetry!
The end result of this multi-faceted Design/Build project is a more efficient and modern home. With better lighting, gleaming floors, and inviting, open spaces, the home is now a warm and spacious gathering place for the homeowner's friends and family.
Before                                                            After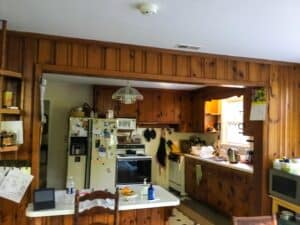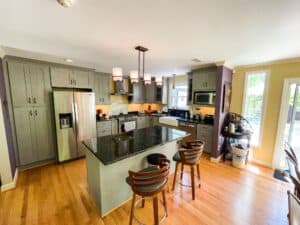 Start Your Own Renovation Project
If you've been dreaming of a home renovation, it could be time to take the next step. Maybe you've been thinking about adding a screened-in porch, redoing a bathroom, or jumping into a whole-house renovation. No matter the scope of your project, Bud Matthews Services can walk you through every step of the process, from initial quote to design to beautiful finished product. So, get in touch with Bud Matthews and we'll help you jump right into that next big project. We can't wait to hear from you!
Best,
The Bud Matthews Services Team