Why Would My Water Line Break or Start to Leak?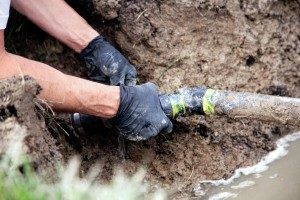 One of the important services that we offer homeowners in the area is pipeline inspections to find out if the sewer line or water line for a home is damaged, what type of damage it is, and the best way to remedy it. Last year we posted about some of the ways that you can tell there's a problem with your water main so you know to contact us for service for your water line in Durham, NC.
People are often surprised that water lines can develop serious issues. Isn't this the most sturdy part of a home's plumbing?
But water lines are subject to a number of types of stress, wear, and pressure that can lead to blockage, minor leaks, and even complete breaks.
Why Water Lines Can Develop Repair and Replacement Needs
Let's start with the basic issue of the age of the pipe. A 2010 report from the National Association of Water Companies and the U.S. Chamber of Commerce found that around 50% of all the pipes in U.S. homes are in need of either repairs or replacement. The older the pipes, the higher the risk. Find out how old the pipes are in your house. Usually, this is the age of the house—unless major piping has already been done. Materials used before 1970 are especially susceptible to deterioration due to corrosion from age, particularly galvanized steel and cast iron.
Another major trouble that water lines face is poor quality water. The water coming from the municipal system can contain high acidity and other corrosive agents that will damage the pipe from the inside. (Chloride, often a byproduct of the water treatment process, is the most common.) This is where copper pipes run into trouble, developing a type of corrosion called pitted corrosion.
The condition of the soil may contribute to pipe deterioration. Clay soil is the most potentially harmful, causing corrosion over time because of low soil resistivity and high chloride content. (There's that chloride problem again!) If your home has clay soil, then you may wish to schedule a pipe inspection every few years to see if corrosion is starting.
Shifts in the soil can place sufficient pressure on water lines to sometimes cause them to break. This can happen because of storm weather, but also due to construction projects.
Finally, root infiltration, although more common with sewer lines, is still something that can damage and block a water line. If you have trees or any plants with deep roots near to where your water line is buried, there's a risk of the roots growing toward the line (roots move naturally toward areas of high moisture) and enter into it.
Professional Plumbers Are Here to Help
The water is definitely something that you cannot work on yourself: you can't even easily reach it! Leave it to our licensed plumbers and their top-of-the-line equipment. They will find out if your water line requires either a repair or a complete replacement, and then have the necessary work done fast and right.
Bud Matthews Services is here for all your home service needs in the Durham area. You can reach our team any time of the day or night.