How Can I Know I Need a Pipeline Inspection?
Posted on:
April 17, 2017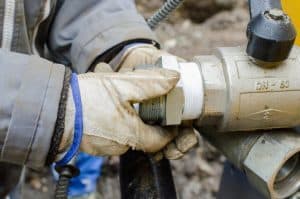 We take pride in the large number of plumbing services we offer our customers. There's no job too big or too small for us to take on! And speaking of big jobs, one we provide is full pipeline inspections for residential sewer lines. These inspections, done using the best technology available, tell our skilled plumbers exactly what type of work needs to be done, such as sewer cleaning, and what spot to target.
Homeowners usually don't know much about their sewer line (there's not much reason to think about this pipe most of the time), and that makes it difficult to know when they actually need to contact us to arrange for a pipeline inspection in Durham, NC. We have some guidelines below to help you tell if your sewer line has suffered from breaks, blockages, or other troubles that call for professionals to check up on it.
Doesn't the utility company take care of the sewer line?
It takes care of the municipal sewer line running down the center of the street. The pipeline that exits your house and connects to the municipal line it, all the way the where it crosses under your property line, is your responsibility to maintain, repair, and replace. Or, to call on a contractor to handle those jobs—you can't them on your own!
Okay, got it. Now what should I watch for?
Here are warning signs that it's time contact our plumbers and schedule a pipeline inspection:
Habitual drain clogs and slow drains: When a single drain clogs up in your house, you may be able to clear it with a plunger. If you can't, a professional plumber can fix it quickly. But if clogged drains are happening frequently, and in more than one drain in the house, the plumbing trouble goes deeper, possible into the sewer line.
Sewer odors from drains: The only time you should expect bad smells from the drains is in a drain that hasn't been used in weeks, letting the p-trap to dry up and allowing sewer gas to escape. When regularly used drains start to stink—more than one drain at a time—there's a bigger concern with the drainage system.
Sewer odors in the basement: When serious problems start in the sewer line, the first parts of the home affected are the lowest ones. If your home has a basement, foul smells down there and spots of water around floor drains are major warning signs of a clogged or breached sewer pipeline.
Sewage-smelling soggy spots on the property: Should a sewer line start to leak from breaks or tree root infiltration, the sewage in the pipe will rise to the surface of the lawn or garden. Soggy patches giving off terrible odors shouldn't be ignored; significant damage could've already been inflicted on the line, and it requires professional attention right away.
You can trust our plumbers to have the inspection done right so we know what to fix. In the case of sewer line repairs or a full pipeline replacement, we use the finest in replacement technology to have work done quickly and with minimum harm to your property.
For all your home services needs in Durham, NC and the surrounding areas: Bud Matthews Services!