Appliance Repair in Chapel Hill & Durham, NC new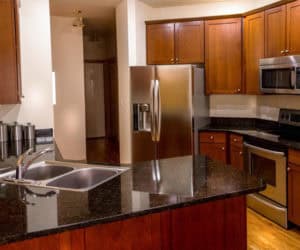 We depend on our household appliances to make life easier for us, especially in the kitchen where food is prepared and appliances like dishwashers and ovens turn arduous tasks into simple ones. But when things go wrong with them, their ease of use can become a giant pain. Replacing them means considerable expense, but repairing them requires a handyman's service, and you can't always be sure that the company you're contacting as the skills or experience to do the job. You need a company that can do it all: installing new appliances, repairing them when needed, keeping them well-maintained and replacing them when the time comes.
With Bud Matthews Services, however, you can set your mind at ease. We have a trained staff skilled at installing, repairing and replacing a wide variety of household appliances. Whether you have a malfunctioning dishwasher, a faulty over range or a freezer that doesn't quite stay as cold as it, we'll be there in a flash to make things right. Contact us today and we'll send one of our trained staff to your home!
You can rely on Bud Matthews Services for appliance services in Chapel Hill, NC.
Installation Matters with New Appliances
For all households, a reliable appliance starts with reliable installation. It can be daunting making a significant purchase and worrying about whether it's going to be put in the right way. Bolts need to be installed properly, water lines and gas lines need to be free of leaks and your new appliance has to work the way it's supposed to at maximum efficiency from the first day. Trusting the right company to do that can make the difference between a trouble–free life for your new appliance and having to deal with repairs almost from the get–go.
Taking the Worry Out of Repairs
Most household appliances see use every day, and when problems arise, they need to be taken care of quickly. That's why you need to trust in professionals who understand the details of key appliances and know how to pinpoint the causes of problems as well as enacting repairs. Local households can't afford to go without an over or a freezer for any extended length of time, which means you need a repair service like Bud Matthews Services to take the worry out of it for you. Regardless of what kind of appliance is on the fritz, you can trust our staff to make things right!
Your dishwasher in nominally connected to your plumbing system, and trouble with the water needs plumbing expertise to handle correctly. But the operating controls and similar functions such as the timer take electrical expertise as well. You need a repair technician skilled in both halves of the equation, who knows what to look for when problems arise.
Whether gas or electric, your dryer relies on heat to get your clean clothes ready for folding. That heat can be dangerous if the system runs into trouble, even when you don't add the dangers of excessive lint. The good news is that most dryers have safety features to cut off power when there's trouble, but that still means you need to call in the professionals at Bud Matthews Services to handle problems the right way.
Some appliances, like dishwashers, can probably sit for a couple of days before a repair technician can be summoned. That's not the case with freezers, which can not only create a huge mess in the summer heat of Chapel Hill, NC, but can spoil all the food you're storing in it.
Garbage disposals make life a whole lot easier when your preparing and cleaning up after meals, and because they often do their jobs without complaint, we rarely think twice about them. When they break down, however, it can put a severe crimp in your kitchen duties, and bring the rhythm of your life grinding to a halt. The sooner you can get a faulty garbage disposal fixed, the better.
Microwave ovens are so inexpensive that the usual response to a malfunction is simply to throw them out and buy a new one. This can be quite wasteful, especially if the oven is connected to an oven range or similarly "permanent" appliance. Instead, contact a qualified repair service to fix the problem at a fraction of the cost.
Most overs are still fed by gas, and even those that aren't can generate lethal levels of heat. When trouble arises with yours, don't attempt to fix it yourself. You could release gas or other dangerous chemicals into your house as a result. Professional repair services know how to fix the problem properly.
Electric ranges usually cease to function when they suffer breakdowns, making it easy to summon a repair service. Gas ranges, however, can be much trickier, since the system may be releasing toxic gas into your kitchen. The moment you detect a problem, turn off the gas to your over and summon a qualified repair service immediately.
Refrigerators are surprisingly complicated pieces of machinery, and while installing them is simply a matter of wheeling them into place and plugging them in, repairs can be another matter entirely. Attempting to fix a refrigerator yourself is futile at best, and dangerous at worst: refrigerant and other components require formal training to correctly address. Call Bud Matthews Services today to fix your refrigerator the right way!
A range–top stove is a miraculous invention that often gets lost on us due to its commonplace nature. We don't have to fuel our stoves with coal or wood anymore the way they have for hundreds of years, and we don't usually see just how much we depend on it until something goes wrong. That's when you need a trained professional to handle the issue the right way.
Washing machines are among the most common household appliances in services today, but because they have so many moving parts, service calls are often necessary and repair calls happen from time to time. They're not something you can leave for more than a few days without addressing. Call upon Bud Matthews Services to make it right!
Water heaters run the gamut between tank models, tankless models, heat pumps and hybrids. But all of them are designed to do their jobs in out–of–the–way locations, which can take people by surprise when they need to be repaired or installed. If your old water heater has given up the ghost, or even if it just needs a repair or a service call, then trust the friendly professionals to do the job right.
A wine cooler is an excellent way to keep your wine collection ready to go whenever you need it. It also takes a trained professional to properly maintain, and when repairs are needed, repair a wine cooling system. A good service can take care of such issues, as well as performing a first–rate installation to start things out the right way.
Bud Matthews Services Is Ready to Fix Your Appliance Problem
Regardless of whether the issue appears in your kitchen or laundry room, whether it's a loose bolt or a major component replacement, you want a repair service that knows the system and understand exactly how to make the problem go away. If you have an appliance that's malfunctioning and you need it repaired, our your appliance has given up the ghost and you're ready to install a new one, a timely visit from Bud Matthews Services can make it happen. Pick up the phone today and call our friendly staff to make an appointment.