Watch for Late Season Air Conditioning Problems
Posted on:
September 4, 2017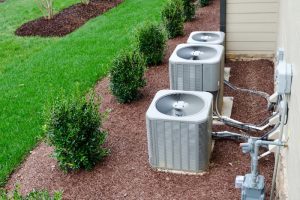 Our last series of posts have concentrated on plumbing issues and how our team of excellent plumbers can help you out. But we handle a wide variety of home services, and a service you may need us for during these last few official weeks of summer is help repairing your air conditioner. Your cooling system underwent a lot of stress this summer—one of the hottest on record for Durham!—and that can add up to an air conditioner that fails late in the season.
But if my AC has problems so close to fall, is it worth repairing?
Absolutely! Not only is it worth it, it's essential. Letting an air conditioning repair in Durham, NC go without service creates plenty of future problems:
It increases the chance the AC will abruptly fail during a fall heat wave—and you know those can happen!
It forces the air conditioner to work harder than normal, which raises utility bills.
It decreases the overall system life, and that means an early replacement.
It makes it more likely the eventual repair will cost more—or that there will be more than one repair needed.
So it pays to keep a careful watch out for any signs your home's cooling system is having problems, even if the air conditioner is still able to do its job. An odd noise, a compressor that starts and stops often, or a single room that seems warmer than normal: these all indicate a possible AC malfunction that you'll want professionals to investigate.
Some common late summer AC troubles
General wear and tear is what causes the majority of air conditioning malfunctions and failures at this time of year. Here are some that you might run into:
Dirty outdoor cabinet: When an air conditioner starts costing more to run at the end of the summer, it's a good idea to check on the outdoor cabinet. Too much dirt and grime on it will restrict the AC from being able to properly exhaust heat.
Dirt on the evaporator coil: Dust and dirt can slip into the AC around a clogged up filter (always change the filter for a fresh one every 1 to 3 months). As dirt and grime start to collect along the evaporator coil, they will restrict how well the coil absorbs heat. This will mean a rise in electrical costs and a drop in cooling power. It may also trigger the development of ice on the coil—a sign to call for repairs right away.
Leaking refrigerant: Any loss of refrigerant will cause a series of troubles with an AC, usually starting with a decline in cooling performance. You may also see ice on the indoor coil and experience a short-cycling compressor. A hissing sound often warns of refrigerant leaks.
Hard starting: This is when the compressor has trouble starting up, often making clicking and grinding sounds. The cause can be failing capacitors, stress on the compressor motor, or a build-up of dirt and dust on the compressor. This drains power and increases the chance of a full AC failure, so have it looked into right away.
Bud Matthews Services is here in the Durham are for all your home service needs.