Bud Matthews Proud to Partner with Local Triangle Businesses
Posted on:
November 1, 2021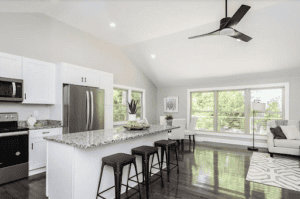 Over the years, Bud Matthews Services has expanded to include a diverse array of home repair, maintenance, and renovation services, from plumbing and sewer repair to HVAC repair and installation to design/build projects (and more!). While we think of ourselves as a "do it all" home services company, the truth is that no one can do it all without a little help. That's why we call on our fellow local businesses in Chapel Hill and surrounding areas.
For our design/build jobs, which include renovations, additions, and new builds, Bud Matthews Services partners with dozens of local businesses for their expertise, supplies, and services. In today's blog, we introduce you to five of them.
Burlington Carpet One
Bud Matthews Services partners with Burlington Carpet One for all of our flooring needs, whether we're replacing old & damaged flooring or installing new floors during a renovation. These flooring specialists have been locally owned and operated in the Burlington, NC area since 1972, when they started out as The Plywood Store. Today, they offer all kinds of quality guaranteed flooring, all expertly installed by their in-house technicians. We appreciate the great work of this company every time we do a renovation or new build!
Fitch Lumber
The folks at Fitch Lumber have been supplying us with service windows, doors, and lumber for many years, and it's always great to work with them. Perhaps one of the longest-standing family-run businesses in our area, A.B. Fitch started his lumber businesses in 1907 in Mebane, eventually moving to Carrboro in 1923. It is an honor to work with such a tried-and-true local business who has helped to make so many local homes and businesses more beautiful and comfortable throughout the last century.
Triangle Crawl Space Solutions
The crawl space specialists at Triangle Crawl Space Solutions are our go-to experts for sealed crawl spaces. These folks will make sure the area beneath your home is tight as a drum with a moisture barrier that protects your home from dampness, mold, odors, pesky critters like insects and mice (no thanks!). This kind of work may not be glamorous, but we've never met a homeowner who wasn't seriously grateful for a clean, dry crawl space!
CE Creative Glass Design
We rely on CE Creative Glass Design for special glass needs in our design/build projects. Their custom shower enclosures are modern, sleek, and always expertly installed. We love working with people who are passionate about what they do and who use that passion to create excellent work. Our homeowners fall in love with their bathrooms once they've seen CE Creative Glass Design work their magic.
ACR Supply
Since 1977, ACR Supply has been supplying the southeast with HVAC parts and supplies for HVAC. As HVAC experts, we have a special relationship with this family-owned, Durham-based business. We got to them for HVAC & refrigeration parts as well as equipment for repairing LG & Sure Comfort appliances.
In the coming months, Bud Matthews Services will be sharing more of the businesses we're lucky to partner with in the Triangle area and beyond. Highlighting these businesses not only helps spread the word to the community about their awesome work, it also helps us to remember how lucky we are to live in an area with such a vibrant and thriving small business community!