Our HVAC Maintenance Agreement Is What Your Heater Needs This Fall
Posted on:
October 2, 2017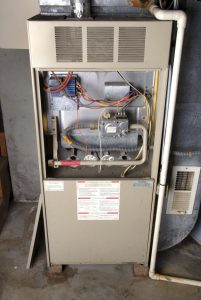 Now that it's officially fall—there's no arguing it when the calendar says "October"—it's time to start planning. And we don't just mean for a Halloween costume or party. This is the time of year to start preparing your home for winter weather, getting everything squared away before the real cold temperatures strike, and they can strike much earlier than we want them to.
There are a number of important steps you can take for your plumbing to prevent dreaded pipe freeze, but in this post we're going to talk about how to stop you and your family from freezing: arranging for maintenance for your home heating system with our HVAC maintenance agreement.
Yes, heating maintenance is necessary every fall
It's tempting to skip a year here and there when it comes to maintenance. "How much of a problem can it ­really be if the furnace misses maintenance this fall?" But don't let yourself be tricked by this: maintenance for heating systems must be done annually. Here are some problems a heating system might run into without routine professional maintenance:
Safety issues: Do you use a gas furnace to warm up your house? (Chances are good that you do, considering how common gas furnaces are.) If so, you run a safety risk with it if you don't have it serviced each fall. During maintenance, our technicians make careful checks of all the parts of the furnace, looking for places where things like cracks along the heat exchanger can create dangers of carbon monoxide leaks or combustion hazards. You want to enjoy winter without concerns for your family's health.
Maintain the warranty: The warranty on most heating systems is voided unless the heater receives maintenance once a year. You want to keep this important protection in place.
Protect energy efficiency: Each year without maintenance can mean a 5% decline in the heating system's efficiency rating. This means you'll pay more to run the heater than you should.
Stop emergency breakdowns: You never want to turn on your heater during a chilly day and discover that it won't work. But the risk of a complete furnace breakdown is much higher if it hasn't been tuned-up in the fall. With professional maintenance, you'll head into the winter with a system that has the best chance of making it through without problems.
Extend equipment life: It's expensive to put in a new heating system, and you don't want to do it earlier than you should. Tune-ups and inspections are designed to help a heating system, no matter the kind, deliver the best return on investment with a lengthy service life.
Our HVAC maintenance is comprehensive
You can depend on our trained HVAC technicians to give your heater, whether a gas furnace, electric furnace, or heat pump, a thorough tune-up and detailed inspection. For natural gas systems, we always perform a carbon monoxide test to help keep the heater running safely. We'll take care of your furnace in Durham, NC, or whatever type of heating system you have.
Bud Matthews Services Is Here For All Your Home Service Needs!