Getting Less HVAC Noise in Your Work Space
Posted on:
February 18, 2019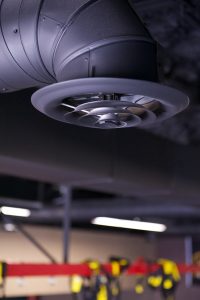 The new modern work space encourages the "open office" layout. Instead of hallways and doors leading to shut-in smaller spaces, offices now are wide open—a more natural feeling that also permits the office to "breathe." It's also a layout that's more conducive to teams working together and feeling connected to the other people in the company.
But these open office spaces are much trickier for commercial HVAC systems. Providing and even spread of heating and cooling in larger areas, often with high ceilings, is a challenge that requires professional and experienced commercial HVAC technicians to handle. (You never want anyone except an HVAC professional with a commercial background to work on any part of your building's HVAC system.) There's another challenge as well, which is how easily noise travels through an open work space—and the HVAC system is often a prime noisemaker.
We have some ideas on how you can reduce noise pollution from a commercial HVAC system in a work space:
Install a quieter system
How old is the current HVAC system in the building? If the work space is in an older building and was later converted to an open design, it may be equipped with an out-of-date heating and cooling system that generates too much noise. Newer designs emphasize quieter operation thanks to new advances in compressors and systems that use variable speed design—which means they don't run at maximum power all the time they're on. Ask commercial HVAC installers about options for a quieter HVAC system.
Put in more sound absorbing material
Those high ceilings aren't helpful when it comes to sounds inside an office. A lot of echoes, a lot of soundwaves bouncing off them. Offices don't often have carpet, either, and this contributes. You don't have to have full carpet put in, put putting down some smaller carpets not only helps absorb the sound, but it looks nice as well. Wall coverings are great for this as well.
Put in sound boots
This is something you can discuss with an HVAC installer. A sound boot is attached to parts of the ductwork to lower sound coming through from vibrations. A professional commercial technician can easily outfit your ductwork with the right acoustical sound boots.
Have air handlers and vents redone
Here's another service you can have your HVAC expert take care of. Much of the noise in the space may be coming from the poor location of the air handlers and the vents. If your office converted to the open space from a different design, you almost certainly need to have updating done so the vents and air handlers are in the right places. This not only lowers noise levels, it improves performance.
Although we're a top plumbing and HVAC contractor for homes in the area, we also offer to commercial heating and plumbing in Durham, NC. No matter if you're looking for quieter environment or you have a need for basic repairs for your commercial heater, you can trust to us.
Bud Matthews Services is here for all your HVAC service needs in Durham, NC. Work with us for better commercial HVAC performance.