Some Plumbing Repairs Our 24-Hour Plumbers Can Help You With
Posted on:
October 30, 2017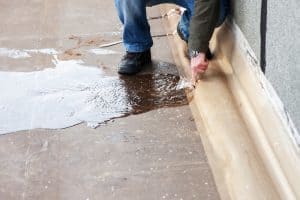 Nobody wants to make an emergency call to a plumber at some odd hour of the night because a major plumbing disaster has hit their house. However, those strange laws of nature that say things will usually go bad when it's least convenient applies to plumbing as much as to anything else. This is why we offer 24-hour emergency plumbing service to our customers. We understand this is something you may need at some point. The peace of mind you'll get from knowing our assistance is only a phone call away any time you need is valuable even if you manage to escape a serious plumbing fiasco.
Let's take a look at some of the common household plumbing fiascos we can help solve, whenever they might happen.
Flooding from a burst pipe
Frozen pipes are a major danger during the winter, since the ice can lead to a pipe bursting and flooding parts of your home. You can prepare yourself for this type of emergency by ensuring you know where the main water valve for your house is so you can shut off the water and stop continued flooding. We also strongly recommend installing an automatic shutoff valve that will stop water flow automatically. No matter how you stop the flooding, you still need a plumber on the job to fix the problem right away.
No water pressure/no water at all
There's no water coming from the faucets, showerheads, or any other tap in the house. This is certainly an emergency, although before contacting us for help, find out if your neighbors are experiencing the same problem. If they are, the issue is a municipal one and calling the utility company is the next step. If it appears the trouble is limited to your home, you have a serious problem that has to be fixed ASAP, no matter the hour.
Sewage backup
Sewage has started to flow out of the lowest drains in the house! This is alarming, and it means big trouble with the sewer line or septic system that requires attention immediately. In most cases, you'll need extensive sewer line cleaning or possibly a sewer line repair/replacement. This is a major job, and you'll be glad you called professionals right away to get on it.
Overflowing toilet
As with flooding from pipes, an overflowing toilet is something you can stop with a turn of a single valve. The feed line to the toilet that brings in water to the tank has a valve that will shut off the water. Once you've done that, you can make a call to our plumbers to have the toilet fixed. Toilets are as essential as any plumbing fixture in a household, so please don't delay on scheduling repairs for one.
When you want a 24-hour plumber in Chapel Hill, NC or the surrounding areas, you can trust to our team of plumbers to help you out. No job is big or too small for our professionals.
For all your home service needs the Durham area: Bud Matthews Services. Depend on our 24/7 emergency service!