Construction Services in Fearrington, NC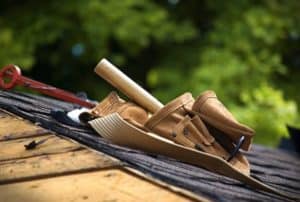 Undertaking any construction job is a lot of responsibility. It is a job unto itself. But when you hire us to help with your construction project, whether it be new fencing, painting, siding or a remodeling job, you can rest assured that your home and your project are in skillful hands. Our experts in Fearrington, NC know and understand the permitting process as well as all the inspection processes, so you won't have to worry about juggling these crucial details. We'll see to it that your job begins on time, finishes on schedule, stays on budget, and is fully permitted. Our construction pros can take your vision for your home to reality!
DO YOU KNOW WHEN TO GET A PERMIT AND AN INSPECTION IN FEARRINGTON, NC? WE DO!
There are lots of moving parts to all construction jobs, but your job won't go anywhere without the right permits. You may think that only big projects need permits; however, this isn't the case. For instance, any accessory structure larger than 12 feet needs a permit. Even something as small as installing some outdoor lighting will require a specific permit. Want a new retaining wall taller than 4 feet? Yep, you need a permit. You will also have to have inspections done for these as well.
It's a lot to handle on your own, but this is where our construction experts come in. Whether you need a room addition, professional carpentry services, or want to remodel your outdated bathroom, our experts will handle all the details of the job, including the permits. There's no reason to stop your construction project before it starts because of a lack of permits. Instead, let the pros us manage your projects from start to finish.
IF YOU HAVE A PUNCHLIST, WE HAVE THE SPECIALISTS
We all know that list, the one where the not–quite–shutting door is going to get worked on, and that dripping faucet gets taken care of. Some people call this list the honey-do list, others a punch list.  No matter what you may call it, finding the time to get these tasks done can be quite a challenge, but not for us! Why? Because this is what we do every day, and we'll make sure the job or jobs are done to your complete satisfaction. Don't let those undone tasks around your house stay undone – call us today!
DECK DESIGN AND BUILD
Is there a part of your home that is the perfect location for a deck, but you don't have the time or expertise to add it? Would your house look incredible with a front porch? Then it's time to call us! We can help you with designing and building additions to your home.
DOORS AND WINDOWS
Your home can lose a tremendous amount of needed air from old doors and windows. Our experts can help you install new, efficient, insulated doors and windows that allow the natural light in while also keeping your cool or warm air in. We can also repair your doors and windows as needed.
FENCING
Fences add character to your home and make it easy to maintain family pets. If you've been looking for a reliable company to install a new fence, replace old fencing, or repair your fence, you've come to the right place!
FLOORING
Your floors perform a function, but that doesn't mean they shouldn't complement your living spaces. We can help you repair, install, or replace a wide range of flooring types, from wood floors to tile and vinyl.
MASONRY AND CONCRETE
Hardscapes are an essential part of every home, and you can find them everywhere: driveways, retaining walls, sidewalks, etc. It takes skill, knowledge, and experience to work with masonry and concrete. Call us when you need new masonry or concrete, repairs to an existing hardscape, or need to replace a hardscape.
GUTTER SERVICES
Are your gutters sagging from the weight of leaves and other debris, but you don't want to risk climbing up on that ladder to clean them out? We offer comprehensive gutter services ranging from cleaning to installation. Call us today for all of your gutter cleaning, maintenance, and installation needs.
PAINTING
Is your paint chipping or peeling off?  If so then it may be time to freshen up your living room or give your home's exterior a facelift with a new color. We offer all-inclusive painting services, from living rooms to exteriors, we have you covered.
REMODELING
Is it time to update your kitchen, bathroom, bonus room, or basement? With any remodel in your home, it's vitally important to hire trained experts. We will make your vision a reality and deliver your new addition on time, on budget, and just as you want it.
COUNTERTOPS
Your counters create a large part of the visible area of your kitchen. If they are dingy, stained, chipped, cracked, or just outdated, installing new countertops can greatly change the entire look of your kitchen.
ROOM ADDITIONS
Adding an addition onto your existing house, such as a new bathroom, expanded kitchen space, bonus room, or additional basement space means expanding the footprint of your home. Let the pros who have expertise in foundation work, as well as construction, handle your room addition project.
SIDING AND ROOFING
When you need to repair, replace, or install a new roof or siding, we are the experts to call. Our professionals will make sure your new materials are durable, match your aesthetic needs, and are installed correctly the first time around for the best protection from the elements.
FREQUENTLY ASKED QUESTIONS
Will remodeling make my home more energy-efficient?
Almost always, yes. Unless your home was built this year, it likely doesn't use the most modern fixtures or water treatments. A well-planned remodel can have you saving money on energy and utility bills for years to come!
What should I be looking for in a remodeling contractor?
You'll want to be sure they have years of experience with the type of remodeling you want. They should also be able to demonstrate their familiarity with the building codes in your locality, and be very clear and transparent on process and pricing.
What are the best remodeling projects for good return on investment?
According to a 2020 Cost vs. Value report from Remodeling Magazine, a well-respected trade publication, the most efficient construction remodeling projects in terms of ROI were:
A minor kitchen remodel
Siding replacement (fiber and vinyl)
Wooden deck additions
Have more questions? Get in touch today!
Call Bud Matthews in Fearrington, NC at 919.929.0203 or contact us online.