Indoor Air Quality Services in Cary, NC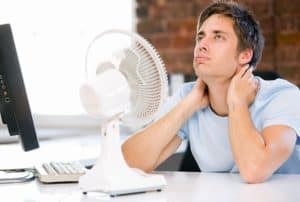 Chances are that you spend the vast majority of your time indoors. That's why indoor air quality means more for your health and wellness than the quality of the air outside. In fact, the air inside of a home usually has a much higher concentration of pollutants than the air outdoors. We can provide services and products that improve your indoor air quality throughout the house and potentially lessen allergy and asthma symptoms or prevent illness.
OUR INDOOR AIR QUALITY SYSTEMS IN CARY, NC
Several systems can help improve the indoor air quality of your home. Your standard air filter does little to protect your air from the smallest contaminants, like bacteria, viruses, pollen, dander, and other common allergens. We can help you to pick out a more advanced filter, air purifier, or an air filtration system that can take care of much smaller particles for better overall protection. You may also need a dehumidifier or humidifier to help make the air quality tolerable.
DUCT SERVICES THAT MAY IMPROVE YOUR INDOOR AIR QUALITY
Unsealed ducts can significantly reduce the efficiency of a heating and air conditioning system. Additionally, they may allow for specific contaminants to enter the ductwork from the attic or a crawlspace more easily. We provide duct sealing and repair services that can improve the quality of the air that circulates through your HVAC system.
AIR FILTRATION SYSTEMS
Adding an air filtration system into your home HVAC system may provide the extra filtration you need to keep common allergens out of your air and help family members with seasonal allergies.
AIR PURIFIER
An air purifier cleans the air, eliminating contaminants like bacteria, pollen, and pet dander so that you can go on with your day without worrying about an allergy or asthma attack.
DEHUMIDIFIER
A dehumidifier removes enough moisture from the air to make the air feel a little bit cooler, which can reduce your dependence on your air conditioning system and lower your bills. Additionally, a whole–home dehumidifier can reduce the potential for mold and mildew development.
DUCT REPAIR
Duct repair may become necessary as ducts are known to deteriorate over time. If your ductwork needs a repair, it will take longer for the air to reach your home, which will result in higher bills and less comfort.
DUCT SEALING
Sealing ducts is not as easy as it may sound. The kind of duct tape found in stores really isn't appropriate for duct sealing, and only a professional can determine which type of sealant is best for any given situation.
HUMIDIFIER
A humidifier is a useful home fixture for several reasons. A whole–home model, can help to protect wood furniture or instruments from drying out. It can make it easier for you to stay comfortable in cold, dry weather, and it provides extra protection against contaminants.
UV AIR PURIFIER
UV light kills and sterilizes tiny organisms like bacteria, viruses, and mold spores—some of the most aggravating contaminants in any home. Keep your air cleaner with a UV air purifier, which works along with your HVAC system to deliver the clean air you and your family members deserve.
COMMERCIAL INDOOR AIR QUALITY
When you need the commercial indoor air quality to improve on your property, you need a system that is powerful enough to remove contaminants throughout a larger building. We also install and service commercial indoor air quality products.
Schedule an Air Quality consultation with Bud Matthews Services in Cary, NC Today
Bud Matthews Services is committed to our people-first approach to customer service. Whether you are a new customer interested or have been with us for over forty years, you can know early-on that everything we do begins, and ends, with you. Contact us to schedule a consultation in Cary, NC for all of your indoor air quality needs today!
Frequently Asked Questions
Is indoor air quality really a big deal?
Yes. In fact, the Environmental Protection Agency ranks indoor air pollution one of the top five environmental hazards. Americans spend most of their time inside, and indoor air is often 2 to 5 times more polluted than typical outdoor air. Polluted indoor air can have serious effects on respiratory health, especially for those suffering from allergies, asthma, etc.
What are the most common indoor air pollutants?  
Some common indoor air pollutants include:
Asbestos
Dust
Pet Dander
Carbon Monoxide (CO)
Nitrogen
Pesticides
Radon
Secondhand Smoke
Volatile Organic Compounds
How can I keep tabs on my indoor air quality in Cary, NC?
Improving ventilation and having a professional do routine annual maintenance on all your HVAC systems is important. You can also invest in an indoor air quality monitor or DIY home testing kits.