Reasons to Get Rid of the Old Window ACs
Posted on:
April 29, 2019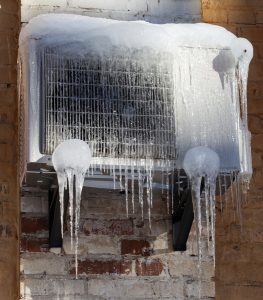 Central air conditioning systems started to become common for residential buildings in the 1970s. But many homes in the Durham area still rely on window units to provide their summer cooling. We recommend you have these window units replaced, either with a standard central air conditioning system (if you have ductwork in the house for it) or a ductless mini split system (a flexible option that makes it easy to transition away from window units).
What's Wrong With Window ACs?
Don't get us wrong. Window air conditioners are a good choice for cooling—if you live in a small apartment! For a family house, however, they have too many drawbacks. Here are a few of the reasons we recommend you take out those old window-stuffers and install a new type of cooling system.
They don't look good
An air conditioner taking up window space isn't a good designer look for a room. Worse is what the ACs look like from the outside, where the large condenser and fan parts of the units protrude from the sides of the home. A house has much less curb appeal when its studded all over with window air conditioners.
They take up window space
Does your home feel dark and a bit dismal because air conditioners have hogged up numerous windows? Imagine getting all that window real estate back. That not only means more light, it also lets you open up the window to enjoy a fresh breeze, which is helpful for cooling down the house naturally.
They don't cool a large volume of space
A window unit is limited in power and cannot effectively cool off large spaces. A window unit may be enough for smaller bedrooms, but if you want to keep the living room cool, you'll have to put in multiple window ACs.
They're not energy efficient
The SEER rating of most window air conditioners is around 13 or 14, which is lower than the standards of the ENERGY STAR program. By contrast, central air conditioners and ductless mini splits have much high efficiencies, with many that have SEER greater than 20. Replacing window units will start saving you money right away.
They make winter weather colder
Window air conditioners aren't well-insulated, and they easily allow heat to escape from rooms during winter. You can prevent this by temporarily taking out the units during the winter and storing them—but that's a real pain.
They make too much noise
A central air conditioning system/ductless mini split puts the compressor and the exhaust fan outdoors in a separate cabinet. Window units have both these noisy items attached right to your windows!
We'll Help You Find a Better Cooling Solution
We're the contractor to work with for great central air conditioning in Durham, NC. We always stress professionalism, and our technicians will arrive at your home in a clean company shirt and driving a clearly marked company vehicle. All our technicians are bonded and insured to protect you and your property. And, of course, they have the training and experience to ensure you get the best service every time.
Put in a great new AC system for the coming summer. Bud Matthews Services is here for all your home service needs in Durham.