Are You Leaning Toward a Tankless Water Heater, But Aren't Sure?
Posted on:
October 16, 2017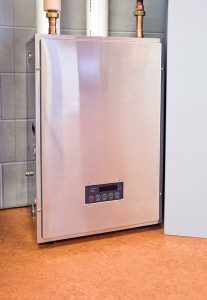 It's the point of making a decision, and you're teetering on the edge. It's that make-or-break moment when your old water heater is about done and you have to have it replaced before your household finds itself with only cold water. You know it's time for a new installation, but you aren't sure if you should stay with a standard storage tank water heater—the type you've had in every home you've lived in—or one of the newer line of tankless water heaters. You feel you're tilting toward going tankless. But that's still a big jump, a change you're worried may end up being the wrong one in the long run. Yet there's still so much about the tankless system that seems right. What do you do?
We'll admit that perhaps we've made the choice seem a bit dramatic. However, we've been in situations where the choice between going with the conventional or trying the promise of something new can be tough, or even agonizing. We're here to help make this choice a bit less stressful for you.
Think about the reasons you're leaning toward tankless
What appeals to you most about a tankless water heater, based on what you know?
Tankless systems won't run out of hot water.
They take up much less space than tank water heaters.
They use less energy.
They have longer lifespans and fewer repairs.
If your answer is "all of the above," then you've definitely given tankless water heaters a good deal of thought. We think you're on the right track, although to make the best final decision, have us come to your home and help you choose the right type of tankless water heater.
If your answer is "won't run out of hot water," we want to provide a bit of caution: a tankless water heater will always heat up more water as it's needed, which does mean that technically it can't run out of a hot water supply. But a tankless system can be overwhelmed by demand if more than one tap is on at the same time demanding hot water. Sizing the system is important, and knowing how much water demand your household places on the water heater. In some cases, such as a home with large families, it may be better to stay with a storage tank system.
The professionals have all your answers
We must stress that you should never make a final choice for a type of water heater, even just a size of water heater, without the assistance of installation experts. A trained technician or group of technicians can determine a system balanced for your hot water demands, household size, energy use, and budget.
The upshot of all this is that you need a plumber in Durham, NC with skill and experience handling water heaters to help you make the best choice for a new system—as well as to do the work of installing the system. You'll find the right people at Bud Matthews Services: no job is too big or too small for our team to handle.
Bud Matthews Services is here for all your home service needs in the Durham area.